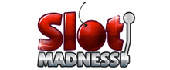 Slot Madness is an online casino that made its debut in 2010. Part of the Ace Revenue Group, they are licensed in the gaming jurisdiction of Costa Rica. Their website is only available in the English language, although players from various countries across the globe are accepted. As you might have guessed from their name, the emphasis here is on virtual slot machines.
Accepted Customers
Slot Madness does accept players from the United States. This is always good news, as numerous online gaming establishments are still hesitant to risk the wrath of the US government. Other notable countries that can play at their casino include the United Kingdom, Spain, Japan, Australia, Germany, and South Korea.
There are plenty of parts of the world that are banned from Slot Madness, however. According to their list, citizens of almost 200 nations are unable to play. Some of the more notable examples include China, Russia, France, Canada, and Brazil. That number sounds like an awful lot, but I suppose the inclusion of countries such as North Korea and Iran tend to skew the numbers.
On the plus side, Vatican City is on the accepted list. If you're a high-ranking member of the Catholic faith with a secret craving for online slots, this site has got you covered.
Initial Impressions
Slot Madness is an impressive-looking site, filled with bright colors and vivid imagery. Their section on bonus amounts manages to say exactly what the customer wants to hear, even going so far as to offer free money without any playthrough requirements.
If you look for reviews on Google, you'll find page after page of sites singing the praises of this casino. Notice, however, that almost all of them are also affiliates, meaning that they get paid every time a new customer signs up through their site. Does that sound like a conflict of interest to you?
Now the Bad News
The Ace Revenue Group, which purchased Slot Madness, the same year that it debuted, is regarded (at least by some) as one of the worst casino operators on the planet. They are notorious for either not paying customers or stringing out the process as long as possible.
Because of this fact, Slot Madness is routinely looked down upon by industry regulars. For example, The Pogg review site has given them 2.75 stars out of 10, and Casino Listings has them blacklisted.
Casinomeister, one of the most famous names in the casino watchdog business, had them on their rogue list for years. It should be noted, however, that Slot Madness is no longer on this list due to an increased effort to clean up their image and the decision of the site owner to remove them despite the protests of members.
Whether or not they've actually changed is still a subject for debate. There are multiple forum threads from the last year complaining about slow pay tactics. One player tried to collect his winnings to the tune of $53,000, but their maximum payout limit of $2,500 meant that it was going to take him over two years to get all his money.
After getting the runaround and taking his case public, he was contacted by a representative of the casino and informed that an "error" had been detected. This meant he would receive his full amount in half the time, although this still required a year's wait to get the full amount.
Another red flag is the fact that they're licensed in Costa Rica. This jurisdiction has long been considered a joke, as they require no minimum standards and have no real oversight. As long as the applicant pays the licensing fee, the nation is happy to give their blessing.
Slot Madness Casino Games Available
When I started writing this section on the games offered by Slot Madness, the first thing I did was scroll down to the bottom of the screen to see which software provider they were using. I was surprised to see the name "NuWorks," as it's not a common software provider.
NuWorks launched in 2011. They've yet to put up a company website to advertise their services. Let's hope this latter detail changes in the near future, as I'm always a little leery of a company that makes its money online but can't seem bothered to create even a bare bones information site. Shouldn't that be a snap for men and women who spend their days writing code and creating casino games?
Despite my quibbles about their lack of online publicity, the software company has managed to avoid any major problems within the industry, and they've also received their own page at the CasinoMeister website (although it's pretty barren at the moment). In addition to Slot Madness, NuWorks clients include Begado, BuzzLuck, and Lucky Club.
Owned by a Curacao-licensed company named Hastings International BV, NuWorks has used Realtime Gaming software as a template for their design. It's no coincidence that Hastings also owns RTG.
Their software accepts US players, which is always a plus considering the frustration brought on by the passage of the Unlawful Internet Gambling Enforcement Act. And while they originally offered only downloadable content, they've since expanded to include an instant-play option.
The random number generator for NuWorks has been tested and approved by TST, which is a reliable third-party agency. In addition, they've been licensed by the Interactive Gaming Council and the Interactive Gaming, Gambling, and Betting Association. This all adds up to a reputable software provider, so you at least shouldn't have to worry on that front.
Works is known for specializing in virtual slot machines. Given the name of the casino I'm reviewing, it sounds like a perfect union.
Slot Madness breaks up their casino games into four categories. These include the following:
Table Games
Video Poker
Slot Machines
Specialty Games
The casino employs an unusual rating system for its games that I've never encountered before. When you click on a game to read its description, you'll see the following three categories:
Overall Rating
Fun Factor
Rewards
"Fun factor" relates to the level of enjoyment that a customer should experience while playing the game. "Rewards," meanwhile, relates to the potential cash prizes that a player might expect to receive. The overall rating is simply the average of the scores for the other two categories.
There were a lot of 10 ratings being awarded to various games, and the lowest score I encountered was an 8. Since a lot of people tend to be harsh when handing out online ratings, and considering that a lot of gaming grades would likely be delivered in the middle of a losing session, I can't help but think that these numbers might be manipulated. I have no proof of that, of course, but it's suspicious.
Table Games
Slot Madness has 6 table games to choose from. They include:
Baccarat – A risky game of chance featured prominently in early James Bond movies.
Blackjack – Can you get closer to 21 than the dealer without going bust?
Let'em Ride – Solo poker game where you win with a pair of tens or better.
Texas Hold'em Bonus – Play against the dealer with a chance to win a special bonus bet.
Tri Card Poker – Play a three-card poker hand against the dealer with up to a 40:1 payout.
Vegas Three Card Rummy – The goal of this game is to get the lowest hand possible.
The selection of table games could be more robust, as this number is below average for what I've seen from most casinos (Grand Parker, for example, offers 14). However, when you consider that the site specializes in slots, it makes sense that other areas of gaming might be a less. I would've at least liked to have seen European Blackjack offered because of its more player-friendly rules.
Video Poker
The selection of video poker machines is a disappointment; only the following three games are available:
Deuces Wild – Two cards substitute for any other card.
Jacks or Better – In order to receive a payout, you'll need at least a pair of jacks.
Joker Poker – A pair of wild jokers are added to the deck.
While these games are some of the most popular among video poker players, the low number is embarrassing. Bovada, by way of comparison, has 17 options for its players to choose from, and most casinos have somewhere between 8 and 12. If NuWorks wants to become a player in the business, they need to start picking up the pace when it comes to selection.
Slot Machines
There are a total of 41 virtual slot machines available at Slot Madness. However, given the name of the site and the reputation of NuWorks for being a leading provider of such games, I expected an even greater selection. There should be more than enough to keep most players busy, though.
The variety of themes is impressive and somewhat quirky, with such titles as Iron Duke, Judo Ferret, and Red Raiding Hood. The graphics and sounds are suitably crisp, and there's the usual assortment of multiple paylines, wild symbols, and bonus rounds.
If you're looking for a more significant payout, there are also four progressive machines. These include Monster Millions, Watchdog, Greek Goddess, and African Skies. The same visual and aural quality is present, and several of these include a unique jackpot pyramid where bonus money can be earned by successfully completing an on-screen game.
Specialty Games
In all my years of playing at and reviewing casinos, I don't think I've ever come across a site that only offered a single specialty game. But that's exactly the case with Slot Madness, as only one option is available to customers looking for something a little different.
To make matters even worse, that game happens to be keno. According to the Wizard of Odds, "the odds in keno are pretty poor." I think he's being charitable.
Choose up to 15 numbers from a total of 80, and then win based on the number of matches when 20 numbers are drawn at random. The top prize for getting 15 out of 20 numbers is $250,000, but anyone who's played keno knows that the odds of getting that many matches are astronomical. In fact, they're 1 in 41,751,453.986.
If you really want to play this type of game, I suggest going down to your local convenience store and picking up a ticket for your state lottery. Most of these games function just the same as keno, but the prize payouts are often worth millions.
Customer Service
If you need to contact Slot Madness, there are several options available. North American players can reach them toll-free via phone or fax. There's also my personal favorite of speaking directly to a customer service representative with their live chat feature. Finally, there are several email addresses divided up into general help, deposits, payouts, and support.
Customer service is only available in English, and the staff is on hand 24/7 to meet your needs. Given their reputation for payment issues, however, you have to wonder how helpful their employees actually are. In fact, one online review describes all casinos owned by Ace Revenue as providing "horrible customer service."
Bonuses and Promotions
Slot Madness does offer a lot of bonuses, and I like the fact that they included details like wagering requirements on the same page. It's always a pain having to search for these numbers, so having them right underneath saves a lot of time.
The one that jumped out at me was their 160% matching bonus on all slot and keno games. While you must deposit at least $30, there's no playthrough or limit on how much you can cash out. Not requiring a playthrough is almost unheard of, so any player would be smart to jump all over this one. VIP members who deposit at least $50 can get the same deal, although this time the bonus is 250%.
There are a number of other enticing bonuses, but the sad fact is that the tendency for Slot Madness to welch on payments renders all these number meaningless. They could offer you a 1000% matching bonus, but what good is it if they never pay?
Conclusion
While Slot Madness may look appealing and talk a good game, their actual performance leaves a lot to be desired. They're owned by a casino group with a lengthy history of not paying or slow paying customers, and their general reputation has been repeatedly hauled though the mud on various gambling forums and watchdog sites.
I cannot recommend this casino without exercising a lot of caution. This applies to any property owned by Ace Revenue.