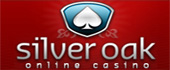 Silver Oak Casino is an online gambling venue that's part of the Ave Revenue Group. Silver Oak holds a gaming license out of the jurisdiction of Costa Rica. All of the casino's games were designed by Realtime Gaming. The site accepts customers from the USA, and seems to be targeted primarily at that part of the market, since it does all its business in English and US Dollars. The casino's list of country restrictions is pretty standard, and is available here.
Pros and Cons
The Ace Revenue Group is made up of five gambling websites, none of which have a sterling reputation. Here are the pros and cons of membership at Silver Oak Casino.
Pros – Americans will consider the fact that this site targets the North American market a pro. All the games on the site are available via download or in-browser as instant-play titles. Silver Oak Casino runs a mobile-capable website, making their services accessible to smartphones and tablets.
Cons – Licensure out of Costa Rica is an immediate red flag. This jurisdiction gets the least respect of all the licensing bodies because their standards are ow. Since the holder of a site's gaming license is responsible for ensuring fair play, timely pay, and other ethical standards, it's not a good sign when a site holds a Costa Rican gaming license.
Wes Burns at GamblingSites.org had this to say about the jurisdiction's validity: "Costa Rica doesn't have a licensing system and never has. There are no licenses, permits, or regulatory bodies governing online gambling in Costa Rica. All the operator needs to do is run the business how it sees fit."
Licensure doesn't mean everything – some legitimate online casinos have licenses out of Costa Rica, Kahnawake, and the other places that might trigger a red flag. Membership in the Ace Revenue Group, along with their licensing, makes for a kind of one-two punch that might discourage you from playing there.
All five Ace Revenue Group sites, including Silver Oak, have a history of making slow payments. In some cases it's apparent that players might not ever get paid.
The complaints in CasinoListing.com's review of the site  are confusing. According to that site, all five Ace Revenue sites are re-brandings of the now-defunct Crystal Palace sites.
CasinoListings goes on to say: "Players with no prior experience at any of the new brands have been spammed with promo offers inviting them to 'revisit,' suggesting that their account and contact details have been passed on to the new brands in breach of privacy ethics."
But I noticed something – everything I could find related to the supposed re-branding was old, published around six years ago. Ace Revenue has made attempts in the recent past to improve their image. After turning to the Casinomeister forums for further evidence, it seems their reputation-building project has worked.
An example of that changing perception is that Casinomeister moved Ace Revenue off its rogue list about a year ago. You can read the details here, but basically because the Virtual Casino Group was moved off the rogue list, the associated Ace Revenue Group moved with them.
Here's what some of the players in that thread had to say about the move off the rogue's list: A member named Tirilej reports: "Actually I'm still waiting for the money I won on Captain Jack around 4 years ago. A whole $50 from a free chip. Maybe they can pay now." Another member, rena35, put it bluntly: "I hope this group has changed for the sake of would be players." [sic]
Regardless of what the group or the site itself is doing to improve its reputation, it has a considerable history of disappointing withdrawal times and shady business practices, as in the reported 50+ business day waiting periods for withdrawals, or the above example I linked to where a deposit was rejected after-the-fact so the site could avoid owing a player the winnings he made from that deposit. You won't find that kind of behavior from legitimate casino businesses, and certainly not anywhere near the scale that you find it with Ace Revenue sites.
Other drawbacks to this casino: it has a small library of Realtime Gaming titles, its mobile site is ugly and has a tiny game library, and the promotions available all come with terms and conditions that put the bonuses out-of-reach for anyone but big spenders.
Silver Oak Casino Games Available
Silver Oak uses RTG (RealTime Gaming) software. Their games are at best adequate but uninspired. Other software providers are producing interesting games with high replay value. I'm talking more specifically about slots here than other games – after all, how much can you really do with blackjack? It's a classic. Companies like BetSoft are producing online slot and video poker titles that are good-looking, fun-to-play, and have unique themes. RTG basically licenses 120 of the same slot title with different graphics.
RTG games are designed to be reconfigured by the casinos that use them. Casinos can affect slot machine and video poker payouts, the number of decks used in card-based games, and other aspects of the games that affect theoretical payout percentages. That means I can't know certain things about how the games are going to play, the way you can with some software designers that release specific statistics about their titles.
The game library overall is small, with just over 120 titles in a few different categories – Slot Games, Table Games, and Video Poker.
Slot Games
This article by Wizard of Odds explains that RTG casinos can pick from one of three settings for slots machine payouts. That means it's impossible for me to tell you: "____ is a good slot at Silver Oak because it has a good theoretical payout percentage." I can say that RTG produces mediocre-at-best slots, and that Silver Oak doesn't even host a very good representative sample of their total slots collection.
Realtime Gaming's slot machine games are, for the most part, lackluster. Compared to the games available from Playtech or Microgaming, they're a disappointment. On the other hand, those latter two options aren't available to United States players, so depending on where you're located, that criticism might be irrelevant.
Table Games
Silver Oak list the following games under the "Table Games" banner:
Baccarat
Craps
European Roulette
American Roulette
Tri-Card Poker
Blackjack
Keno
Match Play 21
Pai Gow Poker
Perfect Pairs
Red Dog
Sic Bo
European Slot Poker
Face-Up 21
Texas Holdem Bonus Poker
Bonus Bingo
Hot Dice
Vegas Three-Card Rummy
Many of these titles are blackjack variations, with little difference between them. The rest of the list is a blend of traditional casino games (craps, roulette, and baccarat) with card-based games that (for the most part) give the casino a high advantage against the player.
Video Poker
Twelve video poker titles are available at Silver Oak. The classic titles, familiar to any casino gambler, are represented – Jacks or Better, Joker Poker, and the like. Less-common variants are also available, such as Double Double Jackpot Poker and All-American Poker. Players can choose to play multi-hand versions of most of their video poker games, in units of 3, 10, 52, and 100 at a time.
Silver Oak Casino Bonuses and Promotions
Silver Oak offers seven different bonus offers in their promotions section.
Finding the specific terms and conditions was difficult. Usually the information I need to gauge the value of the bonuses is collected in a single page – in Silver Oak's case, the T&Cs were often a few clicks away, or (in some cases) totally unavailable. That doesn't give me much faith in their promo department, though I guess it could just be a design problem and not a casino issue.
Here is a rundown of each of the seven offers currently available:
1. No-Deposit Bonus
Ranging in value from $15 – $100, these are mostly promotional tools used to entice both new and repeat customers to make a deposit. Unfortunately, the 30-60x rollover requirement means it takes a long time to earn those free bets.
A 30x rollover is typical when you compare the wagering requirements to the rest of the industry.
The site doubles the requirement on blackjack and video poker, because they give the house the smallest advantage against the player. Blackjack and video poker players have to wager 60x their expected bonus before it all clears to their account. That means $6,000 in wagers to clear a $100 bonus. A $5 per hand blackjack players would have to play 1,200 hands (at $5 a hand) to clear these bonus requirements.  This might take a quick player a couple of hours to accomplish.
2. Crewpon
This bonus system is designed for slots and keno players only. It's a coupon system that rewards slots and keno players based on how much they play and how much they wager.
3. $10,000 Free Welcome Bonus
This is the offer that Silver Oak Casino advertises the most. New players can opt-in to this system, which matches customer deposits at a rate of 100% up to $1,000 on each of their first ten deposits. The 30x/60x wager requirement described in detail above applies here. To earn $10,000, a blackjack player would have to place $600,000 in wagers. Even at the max betting amount for their blackjack games ($250), that's 2,400 bets and an expected loss of around $59,000. Advantage players will be thwarted by these kinds of bonus requirements, for sure.
4. Promo Crazy Days
Each day of the week has its own specific bonus offer that new or repeat customers can take advantage of, distributed via bonus codes and links in email newsletters. An example is Terrific Tuesday, when blackjack players can earn double comp points all day.
5. $10k Draw
Players who make three or more deposits in any calendar month have a shot at a random drawing for a $10,000 betting chip. This money can't be withdrawn, but it is a ton of free cash you can use to play the site's games. This promo is also subject to the 30x/60x rollover described above.
6. Cash Back Bonuses
New players who don't opt in to any other bonus offers or promotions can choose what the site calls a "cash back bonus." Here's how Silver Oak's promo department describes this bonus:
"If you make a deposit over $1,000 and choose to not use a deposit bonus, you can get the "cash back" at a later date. This is perfect for the player who would rather not jump into one big lump sum, but rather space their available bankroll out over time."
7. $777 Free Re-Deposit Bonus
Similar to the Welcome Bonus described above but aimed at repeat (re-depositing) customers. Terms and conditions are identical, except that this bonus is maxed out at $777.
Conclusion
The RTG software is adequate but nothing special. Many players enjoy their games. The availability of the games via mobile device and through a download or instant-play format makes it easy to access. Silver Oak Casino has had problems with paying customers in the past, but they're not so problematic as to be considered a "rogue" casino. Players in the United States, who have few options to choose from, might give Silver Oak Casino a try. I recommend starting with a small deposit and moving up in stakes if and when you feel comfortable with Silver Oak's customer service and payouts.