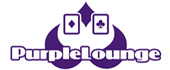 Purple Lounge was once one of the most respected online casino companies in the world.  It was a Microgaming licensee that won awards from online casino portals and drew compliments from players.  In late 2011, the site's good fortune and reputation started taking a dive.
Players started noticing slow payments towards the end of 2011.  This was after a bonus term fiasco where Purple Lounge was accused of seizing funds from players that attempted to withdraw a deposit while clearing a bonus.
In January 2012, Purple Lounge announced that its poker product was leaving Microgaming.  It moved to the Entraction poker platform.  This was owned by IGT, which acquired the network in the previous year.  The casino platform stayed on Microgaming.
The Entraction poker network became known as IGT.  It was a complete failure after the acquisition.  It closed at the end of 2012.  Purple Lounge did not make it that far.  It went bust in April 2012.  The Microgaming casino platform also closed.
Purple Lounge was owned by Media Corp, a publicly traded UK company.  The company fell silent about how players would receive refunds.  That was because no refunds were ever paid.  The company was licensed by the Malta Lotteries and Gaming Authority.  It also had no answers, although it did revoke Purple Lounge's license after it closed, which obviously provided no help to players.  It was too little, too late.
Purple Lounge stiffed poker players out of at least $600,000, according to a report from Pokerfuse.  Creditors were offered between one and five cents on the dollar.  This amount was dependent on the results of the liquidation.  Poker players were not included in any liquidation process, nor were they allowed to vote on disbursements.
The creditor vote ended up leaving players in the cold.  At the time of this post, Purple Lounge players have not been paid anything.
This is yet another warning about companies licensed in Malta.  While the Lotteries and Gaming Authority requires licensees to segregate all player funds, that has not happened time after time as Malta-based companies have repeatedly failed and stiffed players.
This also serves as an additional warning about Microgaming online casinos.  There have been several high profile failures of sites that were licensed by Microgaming.  The Microgaming group always places the blame on the site's management and typically refuses to get involved.