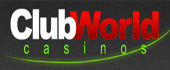 Club World Casinos is a group of gambling websites aimed at different parts of the global gaming market. Club USA Casino is a member of that group, targeting American customers. Club USA's games are designed by Realtime Gaming. The site holds a gambling license from the jurisdiction of Kahnawake. In business since 2003, Club USA accepts both the US Dollar and the Euro as currency, though the software and customer support functions are only available in the English language.
Pros and Cons
Every Web-based casino I've ever joined has its high and low points. Here is a breakdown of the pros and cons of playing at Club USA Casino.
Pros – As a player based in the United States, I'm always happy to find a USA-facing casino website that earns decent reviews. Club USA not only accepts American customers, they market directly to them, and the site's lack of multiple language support is further proof. This property wants to attract US gamblers and their bankrolls. For North Americans, this is a big plus.
All of Club USA's games are available through a download client or as instant-play browser games. A portion of their library is also hosted at a mobile-friendly website, accessible by smartphones and tablets in a variety of brands.
One feature I don't talk about too much in these reviews is payment processing times, but for a US-facing casino this is an important feature. Club USA has some of the lowest reported payment processing times of all the American-friendly gaming sites I'm familiar with, which is quite a few. Don't take my word for it – AskGamblers.com indicates in this review that Club USA's advertised 24-hour pending period is legitimate. That reference backs up the claim Casinomeister.com makes in its Club USA review, when it says the site offers "[r]elatively fast payment processing."
American gamblers have enough to worry about without the frustration of dealing with the usual tricks pulled by less-reputable sites. I couldn't find a single unresolved customer service issue in searches of forums and review sites, at least, not any based on a valid complaint. Here's a woman complaining about trouble withdrawing funds, but it appears she didn't provide proof that she was authorized to use the account in the first place. This is about the worst complaint I found, and even it is suspect. I'm not convinced the complainant had the proof the casino plainly states that it requires in the first place.
Cons – I have my usual concerns about Club USA's licensing gaming license, because I just don't trust the Kahnawake Gaming Commission. Why is licensing important? The various authorities around the world that grant online gaming licenses are there to ensure fair play and ethical business practices.
Some licensing bodies are more rigorous than others; for example, the Alderney Gaming Commission forces all its licensees to make Return-to-Player reports publicly available and submit all software used for real-money bets to additional third-party testing. You can read all about it here, in a public document that potential customers of Alderney-licensed sites can find with a few keystrokes. That's another good sign of rigorous licensing standards – public information.
The Kahnawake Gaming Commission is based in a tiny Native territory just outside the city of Montreal, Canada. In the earliest days of my online gaming hobby, it seemed like every fly-by-night site was licensed out of Kahnawake. Complaints against this governing body were stacking up and remaining unresolved. Apparently, in the years since, the KGC has made improvements, because now they're earning better reviews by reputable sources. My most-trusted source on this type of thing, Casinomeister.com, consider Kahnawake a decent licensing body now. And the website ThePogg.com explains the change in the jurisdiction's legitimacy like this:
"Historically the Kahnawake Gaming Commission were considered a very weak regulatory body, however in the last 5 years a tightening up of regulatory requirements alongside greater involvement in resolving player disputes has seen the Gaming Commission come to be con-sidered one of the better regulatory bodies. There are still several less that reputable casinos operating with a Kahnawake license, but the Gaming Commissions more active approach to dealing with player complaints is certainly promising." [sic]
Some of my wariness about Kahnawake is really tilting at windmills. Just a few months ago, the KGC released an outline of their licensure process online, a feature that hadn't been publicly-available in prior years. Considering that Club USA (like the other Club World sites) has few (if any) legitimate unresolved complaints, this is more of a mild caution than a red flag.
The other cons of playing at Club USA are similar to the downsides at all the Club World properties – Realtime Gaming software is not my favorite, and this site chooses a pretty limited library of RTG titles, so that gameplay gets a little boring after a few rounds, even on slot games. As a major fan of mobile gaming, I'm usually disappointed by RTG-powered mobile sites, and that's the case with Club USA's mobile version. The mobile site's game library is even more limited than the traditional Web-based version.
I'm not a big fan of Realtime Gaming software; more on that below.
Club USA Casino Games Available
Club USA Casino runs RTG (RealTime Gaming) software and RTG software only. Realtime has the ability to produce interesting and engaging titles, like their new progressive Wild Wizards or the unique IRIS 30000. The trouble is, the bulk of their games that should come in a lot of different varieties – here we're talking mainly about slots and video poker – are all too similar to one another. It makes playing them boring.
Another issue I have with RTG software is the fact that it can be configured by licensing casinos to alter features like pay tables and numbers of decks in card games. Because the rules are configurable (here's more on that topic from Wizard of Odds) it's impossible for players to pin down which of their games has the best odds. It's tough to make a measure of statistical advantage when you don't know what settings the site is using.
As discussed above, the library itself is pretty slim. All of Club USA's games are grouped into one of five categories – Slots, Video Poker, Progressives, Table Games, and Specialty.
Slots
A total of seventy-six slot games are listed in this category. That's a decent variety, and an almost-complete collection of all of Realtime's available titles. That's not saying much, unfortunately, and many of the titles available in the Slots section here look and act remarkably similar. Lots of slots players prize variety over almost any other feature.
It's nice that Club USA breaks up their slot titles into further categories: Video Slots, 3 Reel Classics, Bonus 3-Reel, and Real Series. Unfortunately, the vast majority hosted here are Real Series, which are the problem slots that are basically the same game with different props. To put it plainly, the slots here are sub-par for the industry, both because they're designed by RTG and because there isn't a lot of actual variety in terms of how the games play.
Video Poker
Ten RTG-designed video poker titles are available at Club USA Casino at the time of this review. That number is actually pretty small, even for casinos that run on Realtime software. Classic games – Jacks or Better and Deuces Wild – rub elbows with a few less-familiar variants. Multi-hand options are available on all ten of these titles, in units of 3, 10, 52, and 100. Unfortunately, because RTG allows Club USA to configure pay tables on its own, I can't tell you which of these games has the best odds, except to say that it no doubt mirrors standard theoretical payouts to some degree.
Progressives
Nothing new to see here. The games listed here are also all listed in their appropriate category. Club USA collects all their titles with progressive top prizes in one easy-to-find location, which is a nice feature for players that like chasing ever-increasing top jackpots. But there's nothing unique about the titles listed under this banner.
Table Games
Club USA Casino lists the following games under their Table Games heading:
Blackjack
Perfect Pairs
Face up 21
Match Play 21
Pontoon
Super 21
Baccarat
Caribbean Stud
Caribbean Hold'em
Pai Gow
War
Red Dog
Tri-Card Poker
Vegas 3-Card Rummy
Browse this list and you'll no doubt notice the same thing I did – these are really just all the card-based games the site offers, not really all the traditional "table games." Most of these are either a blackjack variant or a casino-style poker title.
Specialty
Eleven games are currently listed at Club USA's "Specialty" section, and it's an odd mix of casino classics and high-risk oddballs. Here's the list:
Hot Dice
Magic 7s
5 Diamond Blackjack
Lucky 8s
American Roulette
European Roulette
Craps
Sic Bo
Euro Slot Poker
Keno
Bonus Bingo
I'm a fan of table games, and I was surprised to see two of my favorites (craps and Euro-rules roulette) listed as "specialty games." This is just silly, considering that they're two of the oldest casino contests still being played and are, by any measure, traditional table games.
The other titles here give the house way too much of an advantage for my money. I'm a bit conservative with my bankroll, so I tend to stay away from titles like Sic Bo that favor the house much more than other classic titles. It's odd to see a casino collect scratch card games and roulette in the same place, but it isn't really a big deal. Just something weird to point out.
Club USA Casino Bonuses and Promotions
Club USA's bonuses and promos are a little unusual, too. Currently, the site is advertising eight different bonus offers. Here is a quick guide to each of them. As always, read Club USA's terms and conditions pages before considering any of the offers outlined below.
Welcome Bonus
This promo is really two bonuses in one – an offer for slots players and another aimed at poker fans. The slots bonus promises a bonus of up to $777 at a 100% match rate. The poker bonus offer is the same, except it's capped at just $150. Both bonuses have a wagering requirement of thirty times a player's total deposit and bonus, and a few other specific terms and conditions that must be met before the bonus is earned. Take note that wagers on baccarat, craps, roulette, and Sic Bo don't count at all towards clearing the slot requirement.
Day-of-the-Week Bonus
The site has a different bonus offer for every day, Monday through Friday. For example, Monday Funday is a 65% match rate bonus offer on a select group of slot, table, and specialty games. Each day is geared toward a different form of gambling, some focusing on slots and video poker, others on live poker or other classic titles, and each has its own terms and conditions that must be followed for payment. These are generally lower-value offers, but that also means their wagering requirements are lower.
Weekend Bonus
Players who opt in to this bonus are eligible for what the site calls a 70% "All Games" bonus as well as a 10% cashback offer. The wagering requirement is just twenty-five times the bonus amount, and all games on the site count toward clearing that requirement, though they count at different rates, so check to see how much a particular game counts for clearing before you play for this weekend offer.
Conclusion
I would recommend Club USA Casino to American players that are looking for a site with a little more legitimacy than those that appear on "rogue" lists at the industry's major review sites. Sure, the use of RTG software is a bad thing (for my taste), but the casino's cashier department appears to handle complaints and issues well, there are no existing unresolved customer service issues that I could find online, and the site offers a library of more than 100 online games of chance and skill to players that don't normally have access to them.