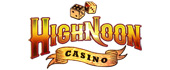 High Noon Casino is a gambling website with a gaming license from the Kahnawake Gaming Commission. High Noon Casino is a member of the Club World Casino group. Like the other members of that group, this casino property runs Realtime Gaming (RTG) software. American customers are welcome to open accounts. Open since 2010, the site accepts a variety of world currencies (including the US dollar, the Euro, and the Pound) and offers 24 hour customer support.
Pros and Cons
Knowing that this was a Club World Casino-affiliated site, I wasn't all that concerned. That group, based in the UK since 2004, is home to several of the best-reviewed and best-performing US-facing gaming sites, some of which I'm already familiar with and have played at before. The pros and cons below should help you decide whether or not to open a real-money account with High Noon Casino.
Pros – High Noon is a great-looking gaming site with a cool Western theme that accepts and markets to American customers. To a certain portion of the gambling market, those are all big pros. High Noon has a big library of games. Even though Realtime Gaming is not one of my favorite designers, I have to admit that they produce a ton of games, and for some players that's an important feature. The site operates both a download and instant play casino. Mobile gamblers can access a selection of RTG games at a version of High Noon Casino designed for smartphone and tablet play. Being a member of the Club World Group is a big deal, because Club World has a good reputation in an industry where rogue operators are pretty common.
I enjoy being able to do what I'm about to do – brag about a casino for NOT having customer service issues or slow payment complaints on gambling forums and message boards. It's not common to find so little in the way of customer complaints when you're researching a US-facing gambling website. And believe me, when a gambler believes they've been mistreated, they talk about it, and they speak loudly.
As a way to prove my point, here's the worst thing I could find online about High Noon Casino's services – a complaint at AskGamblers.com about rejected identification documents. I read through the thread, and something seems fishy about the complaining customer. The casino seems to handle themselves nicely in light of some pretty loud attacks, and though the complaint is listed as "unresolved," it doesn't seem like the customer's case holds any water to me.
Another source that I turn to time and again when I'm checking out a gambling website is Casinomeister.com. Both the static content and the forums are treasure troves of data about every gambling site in the world. The site runs a pretty well-known black-list (called the Rogue List), but it also runs an Accredited Casino list and hands out awards for things like "Best Casino" of the year and the like. Not only is High Noon on Casinomeister's accredited site list, High Noon Casino was named "Best New Casino" in the year it premiered, and the Club World Casino Group is a perennial favorite for their "Best USA-Facing Casino Group" award, having won it three times so far.
I also love writing about customer complaints that get resolved. Check out the comments section in this review of High Noon Casino from CasinoListings.com. At least twice within the first ten comments, a customer makes a complaint and the casino appears to respond quickly to take care of it. For example, the woman who says she made a $21 deposit but didn't see the cash in her account – just two comments later, it appears that customer service has refunded the missing $21.
It's one thing for a customer to have a legitimate complaint. If I made a deposit and didn't see it in my account, I'd be angry, too. Problems will arise in any business. I don't look for perfect casinos that never make mistakes or have software issues – what I look for is a responsive customer support staff, which is apparently what is available with High Noon. I base all this on the reviews and comments found at gambling forums and review sites that I frequent.
Cons – Two major downsides to membership at High Noon jump out at me. The first is the site's exclusive use of Realtime Gaming software. I know I get a little rude about their games from time to time, but the truth is they offer a decent product that some players seem to really like. I won't hate on them too hard, here. Just know that RTG is not by any means the best game designer in the industry. On the whole I'd say they're an average designer of casino games. More on the games available at High Noon can be found down below, if you're interested.
My second major complaint is a little more serious – but still, not serious enough to recommend that people don't play at the site. The bottom line is this – I don't like sites that hold a gaming license from Kahnawake. If you've read any of my other reviews on the various KGC-licensed sites, you already know about this place. Kahnawake is a little independent group of Native people that live on about thirty square miles on the US-Canadian border, apparently doing little else besides selling gaming licenses to online casino groups.
For people unfamiliar with the various licensing jurisdictions online casinos use, there is a certain hierarchy. Some countries that sell gaming licenses do little or nothing to regulate and ensure fair play, and these are at the very bottom of the licensing ladder. In my opinion, this group is made up of licenses sold by Belize, Costa Rica, and Panama. Then there are the top-of-the-ladder jurisdictions with strict regulations in place and other features (such as government oversight) that indicate legitimacy. Licenses sold by the jurisdictions in Alderney, Gibraltar, and the UK are all in my personal top-tier.
Then there are a large number of middle-of-the-ladder jurisdictions that operate somewhat above board but still give me a little bit of concern. This is the group that Kahnawake belongs in, alongside some other popular choices for licensing like Antigua and Curacao.
Should you not open an account at High Noon Casino just because they have a license from the KGC? Absolutely not. I have no evidence of Kahnawake operating in such a way as to intentionally rip-off the members of the sites that they license. In fact, it looks like they are working to get their act together a little more. Though that article is from 2010, it's nice to know that the Kahnawake Gaming Commission are working on ". . . the fair and timely handling of disputes between players and those operators that have been licensed by [the group.]"
I have some minor quibbles with the service that I like to throw in here at the end of the "Cons" section. I don't like their mobile site, but of course I don't like ANY Realtime-powered mobile site. The mobile apps released by the big-name sportsbooks and casinos around the world are way better-looking and have a ton more features than the mere "mobile-compatible sites" released by RTG sites like High Noon. I'll say here, too, that I wish High Noon had a 24-hour live chat customer support option. This is becoming something of a standard, so it's weird for me to find a site that I really like that doesn't offer it.
High Noon Casino Games Available
The library at High Noon is broken up into six categories: Specialty Games, Video Poker Games, Slots Games, Table Games, Progressives, and Favorites.
Specialty Games
All of the Club World Casinos have the same collection of titles under the "Specialty" heading. At the time of this review, they are:
Craps
European Roulette
American Roulette
Bonus Bingo
Sic Bo
Keno
European Slot Poker
Scratch Cards
Do you see what's weird about this list? I'm used to seeing only high-risk games in the Specialty category. Roulette is one of my favorite table games, and that's usually where online casinos categorize it. Craps is not just a table game, it has some of the best odds of any casino game (for certain bets), and certainly doesn't belong near the no-doubt high casino edge scratch cards, Keno, Sic Bo, and Bonus Bingo.
If you were looking for craps or roulette in the Table Games section, described below, just remember that High Noon thinks they're Specialty Games. I can't think of a single reason why Club World would organize their games like this – my best guess is that it has something to do with collecting games that are attached to different sets of wagering requirements under the same heading. I can't back that up, so don't quote me.
Video Poker Games
I'll admit to being a bit of a video poker junkie, so I was happy to see a total of eighteen RTG video poker titles listed in High Noon's game library. Every RTG video poker title currently in the rotation is available at High Noon Casino; I'm not sure I've ever seen that many games at one Realtime-powered site before.
I was also happy to see five different games with the 9/6 flush to full house payout ratio. This pay table gives players the best chance at winning money playing video poker, and some online casinos (even other RTG sites) have just one or two games with this specific pay table available. Look at this information on RTG's classic Jacks or Better game written by the Wizard of Odds. For this game (which is available at High Noon), the 9/6 payout is available, and High Noon's edge is just 0.46%.
Slots
I was a little surprised to find just fifteen slots games at High Noon. I'm so used to seeing US-facing sites that cram a ton of slots down player's throats. The slots at this site are categorized by their style into one of three sub-headings – Video Slots, 3-Reel Bonus, and 3-Reel Classics.
The reason that I actually enjoy the site's use of just fifteen titles is that none of the games here are from the Real Series line of online slot games that I generally don't like. Instead, High Noon offers just the best of RTG's lineup. A game like Food Fight, which uses animated scenes and special sound effects (not to mention bonus games and a progressive side wager) to keep the game play interesting is so much more interesting for a true slots fan like myself than anything that's part of the Real Series.
To say that High Noon's slot games library is small is to tell the truth – but I think it's important to point out that this small collection of slot games is well-curated, with only the best-looking and highest-replay value titles available. Nice job, High Noon.
Table Games
The list of games available under High Noon's "Table Games" header looks like this:
Baccarat
Blackjack
Caribbean Stud
Caribbean Hold'em
Caribbean Draw Poker
Face Up 21
Let Em Ride
Match Play 21
Pai Gow
Perfect Pairs Blackjack
Pontoon
Red Dog
Super 21
Tri Card Poker
Vegas 3 Card Rummy
A good number of these are variations on blackjack. The rest are all card-based games, which could be another reason why craps and roulette (which require props other than cards) are in the Specialty Games category. Point is – if there's a classic table game you can't find here, look for it in under the Specialty heading.
Progressives
All of the titles in this heading offer some kind of progressive jackpot. High Noon simply put all of their progressive titles in a single convenient location. Eleven progressive games are currently available, including the popular I.R.I.S. 3000 and Mid-Life Crisis slots. There's nothing particularly cool to find here, unless you are the type of player that likes to chase progressive top prizes. In that case, you'll probably love this collection.
Favorites
This is something I haven't seen at any other RTG or Club World affiliated sites. Favorites is applicable to the download version of the casino only. What it does is allow players to create a custom menu of different games for easy access. Say you're a slots fan that also plays a little blackjack on the side (and occasionally a few rounds of online roulette when he's had a particularly long day) – you can list your games all under one heading rather than having to click around and find them. Yeah, it's a cool feature, and even if it's a sign of our lazy culture, I enjoyed playing with it when I tested the site for this review.
High Noon Casino Bonuses and Promotions
High Noon offers two different Welcome Bonus promos as well as seven daily specials. Here are the details I found on the site's promotions page.
Welcome Bonus
The first of two welcome bonus offers is a traditional deposit match, capped at $2,000, at a match rate of 200%. Reading the terms and conditions, which stipulate a 25x wagering requirement for total deposit plus bonus, was all it took for me to realize that this one's out of my reach. I just don't play enough for this bonus to be worth my time. High rollers or bonus chasers may disagree.
$60 Free Bonus
Players who don't want to take part in the deposit match offer can instead earn $60 in free betting chips. This bonus has a higher playthrough requirement (50x, according to the High Noon terms and conditions page) but since it is capped so low, it's more my speed.
Daily Bonus Offers
Like other Club World casinos, this site offers a different bonus for each day of the week. Check the promotions page for yourself to see what daily bonuses are available, since these seem to vary from week to week. They're generally low deposit match offers or rebates on losses under certain conditions. As always, be sure to read all the fine print before you take part in any casino bonus.
Conclusion
I remain confident in High Noon Casino's services, particularly for customers in the American market. I had a hard time finding legitimate customer complaints, which means they've been operating above-board for the four years they've been in business. Be sure to give the site the once over before you decide whether or not to open a player account. The theme is really fun and well-integrated.
If you like RTG software, you'll love this seemingly hand-curated collection of RTG games. The bonuses are nothing to write home about, and neither is the mobile site. But they do good business, they've designed a pretty site to host the games in, and they have 24-hour customer support via toll-free phone. If you live in the USA, you have few better options for play than what's available from the Club World group.