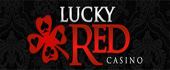 Lucky Red is an online casino that's been in business since 2009. Owned by the Club World Casino Group, they are licensed by the Kahnawake Gaming Commission. Players from the United States are accepted, but they prohibit residents from Israel, France, Costa Rica, Netherlands Antilles, and the United Kingdom (including the Isle of Man, Channel Islands, and Northern Island).
Pros and Cons
Pros – If you're looking for a reason to play at Lucky Red Casino, the following are a few of the more compelling selling points:
Accepts US Players – This means nothing if you're living in Europe, but it's a big deal for American gamers still suffering after the passage of the UIGEA and the withdrawal of numerous sites from the US market.
Superior Casino Group – Each year, the Casinomeister gambling watchdog site gives out awards to the gaming industry. Among these accolades is "Best Casino Group – US Friendly," which goes to an organization that went above and beyond the call of duty during the previous calendar year. The 2014 award went to Club World Group, the company that owns Lucky Red (along with All Star Slots, Manhattan Slots, Buzzluck, and several others).
These honors are nothing new, however, as they were also recognized in 2013, 2012, 2011, and 2009. According to Casinomeister, the reasons for their selection included "prompt and coherent" customer service, "top notch" managers, and assistance from people who can "always be trusted to do the right thing."
Positive Reviews – A lot of online review sites use a common tactic. They promise an unbiased review of a casino, and then proceed to speak of it in glowing terms. They also have a link to the casino, allowing the reader to head over and open an account. However, they often fail to mention that they get paid each time a new customer joins up, so it's always in their best interest to give positive reviews.
Despite this practice, there are legitimate sites out there that specialize in reviewing online casinos. And from what I've read, a large number of them are impressed with Lucky Red. Casino Listings Online is a good example, and their 9 star rating (out of a possible 10) of Lucky Red cited positive elements such as a "first rate customer support team," "generous free chips," and "highly regarded management."
Strong Customer Service – As you may have gathered from the previous two entries, the customer support at Lucky Red is outstanding. They are available 24/7, and you can reach them via telephone, email, live chat, or even snail mail. I've only had to use them once, but the entire process was fast and painless.
Excellent Game Selection – Since they have an agreement with Realtime Gaming, Lucky Red has access to their online casino software. This provides the customer with over 100 options to meet their gambling needs, and RTG has been in the business for a long time. For more details on their available games, see the section later in this review.
Cons – You'll be hard-pressed to find an online casino that's perfect. In keeping with that statement, here are a few reasons why someone might shy away from Lucky Red:
Weekly Withdrawal Limits – I'll admit that this one is nitpicky, as it's common for almost all casinos to have some manner of withdrawal limit. In the case of Lucky Red, players can withdraw up to $5,001 per week in winnings. This does not apply, however, to monies won on their network of progressive jackpots.
Player Complaints – I defy you to find an online casino without customer complaints. Most of these, however, come down to two factors. The first concerns players who don't bother to read the terms and conditions (especially in regard to bonus payments). The second, and even more common case, happens when a player loses and reflexively accuses the casino of cheating.
Here's an example of a player complaint from "Tompa," who tried unsuccessfully to withdraw $4,000 from his casino account. He claimed everything was in order, but his account was eventually shut down following accusations of fraud and duplicate accounts by Lucky Red. Notice that the customer provides no real evidence regarding his situation.
If you're skittish enough to avoid a casino because of a few customer complaints, you'll have a tough time finding a place to play. Casino watchdog sites have the necessary experience to separate legitimate complaints from the bogus ones, and the fact that Lucky Red isn't banned or blacklisted by any leading sites speaks volumes.
Games Offered by Lucky Red
As of this writing, Lucky Red offers over 120 of the best casino games around. Each is designed by Realtime Gaming, which means you can count on them having sharp graphics and crystal-clear sound. Their selection is grouped into the following categories:
Slots
Video Poker
Progressives
Table Games
Specialty
Now that we've established the different types of games offered by Lucky Red, let's take a more in-depth look at each category.
Slots
Lucky Red offers 73 slot machines, including video slots and 3-reel classics. Unlike table games, however, the house edge is something of a mystery. I've read that casino operators can choose from three settings to determine how loose or tight a game is, so even veteran players are going to be left in the dark.
RTG is reliable when it comes to game design, so expect plenty of wild symbols, multipliers, and bonus rounds. I've always been fond of games with animated characters running about the screen, and RTG offers plenty of these. My current favorite is Mid-Life Crisis, but maybe that's just because I can identify with the theme at the moment.
Video Poker
Fans of video poker have 10 different options to choose from. The most common video poker game, Jacks or Better, is included and carries a player-friendly house edge of 0.46%. Some of the other popular options include All American (1.51%) and Deuces Wild (1.9%).
If you're new to the world of casino gaming, keep in mind that video poker machines consistently offer some of the best odds for players. When you combine this with perfect strategy, there's even the possibility of reducing the house edge below zero and giving the gambler a mathematical advantage.
Progressive Jackpots
This category includes any game with a progressive jackpot. Lucky Red has a total of 11 progressives, and these are made up of eight slots and three card games. Of the latter, the best option is Caribbean Hold'em, as the 100/20/10/3/2 paytable give it a house edge of 2.16%.
The house edge on the progressive slots is unknown, but players who are looking for a big payday are urged to give them a try. Slots are entirely based on luck to begin with, so gamblers might as well take a chance on one that's offering a massive payout.
Table Games
There are a total of 16 table games available from the casino, including the following:
Blackjack – The most famous of all 21 games, the object of blackjack is to get closer to 21 than the dealer.
BJ and Perfect Pairs – The rules of blackjack still apply, but the player can also win a bonus amount by getting a pair with their first two cards.
Face Up 21 – One of the dealer's cards is normally dealt facing down in blackjack, while this variant has both their cards facing up.
Match Play 21 – Also known as "Spanish 21," this game removes all the ten cards from the decks.
Pontoon – Both dealer cards are dealt facing down, and a player wins 2:1if they get 5 cards without going bust.
Super 21 – This game is similar to blackjack, but only a single deck of cards is used.
Baccarat – Bet on the player or the banker, with both trying to get as close to 9 as possible. Due to the random nature of the game, baccarat is especially popular among high rollers.
Caribbean Stud – The player receives five cards and tries to beat the dealer's hand. The house edge under RTG rules is 5.21%.
Caribbean Hold'em – The player tries to make the best hand possible using two hole cards and five community cards. An option progressive side wager is also available.
Caribbean Draw Poker – The player receives five cards and may replace up to two of them. In order to qualify for a showdown, the dealer must have a pair of eights or better. This poker variant is unique to Realtime Gaming.
Pai Gow – Based on the ancient domino game from China, Pai Gow requires players to make a five-card and two-card hand, both of which are superior to those held by the dealer.
War – The player and dealer turn over cards from their respective decks and compare them; the high card is declared the winner. This is the same card game that most people have played around the kitchen table at some point in their lives.
Red Dog – In order for the player to win with their three-card hand, the value of the third card must between that of the first and second.
Let'em Ride – The player receives a total of five cards, and their objective is to get at least a pair of 10s.
Tri-Card Poker – The player receives a three card hand. In order to win, they must have a stronger hand than the dealer.
Vegas 3-Card Rummy – The player and dealer both receive three cards. The player's goal is to get a lower total than the house.
Specialty Games
Lucky Red has 11 games that are considered specialties. Basically, this means that the games are different enough to not qualify for the other categories. They include:
Hot Dice – Based on the game of craps, this scratch game awards money to players if they uncover a combined score of 7 or 11.
Magic 7s – A scratch ticket game that features a magic hat symbol as a bonus icon.
5 Diamond Blackjack – In order to win at this virtual scratch card game, all you need to do is get a better hand than the dealer.
Lucky 8s – If you've been longing for a virtual scratch card game that's filled with leprechaun imagery, you're in luck. In order to win, just scratch off the card and look for a match between your numbers and the winning digits.
American Roulette – Once a ball is spun around the wheel, players try to predict which of 38 numbered pockets it will land in. Since it has one more pocket than its European counterpart, this version carries a house edge of 5.26%.
European Roulette – While the basic rules remain the same, this version only has 37 numbered pockets. This is better for the player, lowering the house edge to a more manageable 2.70%.
Sic Bo – A wide range of betting options exist, and payouts are based on how well the player can predict the outcome of three dice being rolled.
Craps – The player throws a pair of virtual dice down the length of a craps table. The objective is to roll a specified number while avoiding other possible outcomes. Numerous betting options exist in this game, and in some cases the house edge may be as low as 0%.
EURO Slot Poker – The object of the game is to make the best five-card poker hand, and there's a wild joker and fruit bonus to help keep things interesting.
Keno – Each time a keno drawing is held, the casino randomly selects 20 numbers from a pool of 80. Your objective is to predict from one to 15 of these numbers, and your payout increases with each match you make. While it can be fun, those looking for solid odds would be better off choosing something else.
Bonus Bingo – If you find that traditional bingo is a little lacking in excitement, you might be interested in trying this variation complete with multiplies and bonus rounds. For impatient gamers, a speed play option is also available.
Conclusion
Lucky Red is an award-winning site that draws consistent praise for their customer service and management. Their selection of games is respectable, and they also accept US players. For all these reasons, as well as several others, I can recommend this casino with no hesitation.