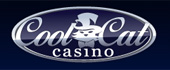 Cool Cat Casino is an online gaming site that offers slots, video poker, and numerous other games of chance. They are licensed for operation in Costa Rica, and they've been in business since 2002. The site runs software from Realtime Gaming, and a mobile version is available for Apple and Android owners.
Pros and Cons
Cons – Unsure about whether you should give your business to Cool Cat? Here are a few reasons why you might want to look elsewhere:
Questionable Associates – Cool Cat is associated with three different groups that have drawn suspicion or criticism in the past. They include:
Realtime Gaming – Still considered a leader in the casino software industry, RTG clients have been embroiled in a number of player disputes over the years. While Realtime doesn't run the casinos, it could be argued that they've grown complacent when it comes to making sure their clients provide the best gambling experience possible.
Virtual Casino Group – This company has been blacklisted by most of the leading casino watchdog sites at one time or another. While some of their behavior may be a thing of the past, there are still those who would prefer to do business with a less polarizing organization.
Costa Rica – The casino is licensed in Costa Rica, but most insiders know that this nation just wants to get their annual licensing fee without having to be bothered about any sort of oversight.
Potential for Slow Payments – While this casino appears to have somewhat cleaned up their act, complaints about slow payments continue to crop up at various watchdog and consumer advocate sites. Most seem to be resolved in a timely manner once they become public, but some players might prefer to look elsewhere and avoid the potential hassle entirely.
Pros – If you're still sitting the fence on whether or not to open an account with Cool Cat, you might consider the following positives:
Game Selection – Thanks to their affiliation with Realtime Gaming, Cool Cat has a wide array of gaming options available (which are covered in detail later in this review). RTG has been creating online games for a long time, and you can rely on their products to always deliver quality graphics and smooth animation.
Detailed Descriptions of Games – A lot of casinos don't even bother with posting details about their games. Of the ones that do, you might get a few sentences at best. That's not the case at Cool Cat, as they dedicated an entire page to each gaming option, along with details about payouts, strategies, and terminology.
Not all of their information is helpful, however. One of the most noticeable examples is their assertion that the Martingale betting system is a valid method for making a profit at the casino.
US Customers Accepted – In 2006, President George W. Bush signed the Unlawful Internet Gambling Enforcement Act into law. The passage of the UIGEA led to numerous online operations pulling out of the US market, especially when federal agents started arresting company heads and seizing websites.
Luckily, some casinos continued to accept American players, and Cool Cat was among this group. Since the selection is greatly limited for gamblers in this nation, any business that is willing to risk the ire of the US government is worth considering.
Bonuses and Promotions – All online casinos offer bonus to lure in customers, but some are better than others. The free money at Cool Cat seems on a par with most, and there are a few that stand out as especially appealing. For example, VIP players can receive a 370% bonus when depositing $50 or more, and there's no playthrough requirement or maximum cash-out limitations. Yes, you may be limited to slots and keno for this promotion, but it's perfect if you were planning on playing those games anyway.
Improved Reputation – While the Virtual Casino Group has seen its share of criticism, there's tangible evidence that they've been working hard to restore customer faith over the last several years. One of the most noticeable examples is the decision to have them taken off the rogue list at Casinomeister. The AskGamblers website has also noted a change in their overall customer satisfaction policies, which has led to Cool Cat being removed from their list of blacklisted casinos.
Mobile Gaming – If you have an iPhone and a passion for gambling, you can take part in the Cool Cat experience via their mobile gaming service. While the emphasis is on slots, it should be noted that the overall selection is more limited than their downloadable software. There's even a 50 free spins bonus offer for mobile customers, which comes with a 30x wagering requirement and $100 minimum/maximum withdrawal.
Casino Games from Cool Cat
The games at Cool Cat Casino are divided into five different categories, which include:
Table Games
21 Games
Slots Games
Video Poker
Specialty Games
Most casinos lump their blackjack variants into the table games section, but Cool Cat places enough emphasis on them to create an individual listing. That's always a good sign, especially if you enjoy games where the objective is to reach 21.
If you visit their site and peruse the list of available games, please note that some are listed under multiple categories. It's unclear whether this was done to be more precise or simply to pad the list for visitors. Either way, just keep in mind that the selection—while perfectly respectable—is slightly smaller than it initially appears.
Table Games
Currently, there are eight table games being offered at Cool Cat. These include the following:
Baccarat – A game of chance where the player tries to get as close to a score of nine as possible. You can choose to bet on your own hand or the dealer's hand. In the movies, it was the favorite pastime of James Bond (next to seducing gorgeous women).
Pai Gow Poker – Derived from the Chinese domino game but played with cards. The player receives seven cards and must make a five-card and two-card hand that are better than the dealer.
Red Dog – The player gets three cards and wins if the value of the third is between that of the first and second cards.
Tri-Card Poker – Can your three-card poker hand beat that of the dealer?
Let'em Ride – Use five cards in an attempt to get a pair of 10s or better. A royal flush pays 1000 to 1.
Vegas Three Card Rummy – The player receives three cards and tries to get a lower score than the dealer.
Texas Hold'em Bonus Poker – The game made popular by the World Series of Poker, except you can also earn a bonus payout based on the value of your initial two cards.
War – The players compares their card with the dealer's card. The highest card wins. In the case of a tie, the player can up their wager and go to war.
Of these games, I would suggest staying away from baccarat. The odds of winning are about like flipping a coin, and there's little to no strategy involved (other than to bet on the dealer every time, as expert John Grochowski suggests). High rollers seem to love the game, though, often dropping millions at real-life baccarat tables.
21 Games
There are numerous types of blackjack variants available from RTG software, including the following:
Blackjack – Get closer to 21 than the dealer without going bust. This is the classic version of the game.
Match Play 21 – The 10 cards are removed in this game, which is also known as "Spanish 21." Surrender and insurance are available, and a tie with the dealer on 21 results in a win for the player.
Super 21 – Played with a single deck of cards, this game functions in much the same way as blackjack.
European Blackjack – Just like regular blackjack, except the dealer doesn't take a second card until after the player's turn is complete.
Perfect Pairs – In addition to the blackjack rules, players also try to get a pair for a bonus payout.
Face Up 21 – The dealer's cards are dealt face up, which is a twist on the standard rules of blackjack.
Pontoon – The British version of blackjack where both dealer cards are dealt facing down. If you get five cards in your hand without busting, it's called a 5-card Trick (or "Pontoon") and pays 2 to 1.
According to their site, the payout odds for most of these games are 98.5% (for a 1.5% house edge). While that's not as appealing as 0%, it's still respectable enough to warrant consideration.
Slots Games
Fans of slots should be pleased, as Cool Cat offers over 120 different games to choose from. While the payback percentage is a closely guarded secret on these virtual machines, you can rest assured that they include standard slot selling points such as bonus rounds, multipliers, free spins, and wild symbols.
When you play, just be careful to stay alert and avoid falling into a zone where you lose track of how much money you've wagered. This is a major danger with slot machines, as detailed in a 2013 article from the business section of the NY Times.
Video Poker
Cool Cat currently offers 16 video poker games, which are comprised of the following:
Aces and Eights – Receive bonus payouts for four-of-a-kind aces, eights, and sevens.
Bonus Poker – Various four-of-a-kind hands offer increased payouts.
Double Bonus Poker – Four-of-a-kind hands pay extra, and there's a double or nothing bonus round.
Double Jackpot Poker – The royal flush offers the top jackpot, but there's also a double or nothing bonus feature.
Loose Deuces – The deuce cards are wild, and the highest payouts go to four-of-a-kind hands and wild royal flushes.
Sevens Wild – The seven cards are wild, and there's a double or nothing bonus feature.
All American Poker – You need jacks or better to win, and the royal flush pays 4000 credits on the maximum wager of 5 coins.
Bonus Poker Deluxe – Play multiple hands at the same time and win 375 credits for getting a straight flush or four-of-a-kind on the maximum bet of 3 coins.
Double Double Bonus Poker – Multiple hands are available, and the payout table includes 13 different winning combinations.
Jacks or Better – This classic video poker game pays out on a pair of jacks or greater.
Mystery Bonus Poker – Win special payouts by matching the mystery hand that's drawn at random. Multi-hand games are also available, as well as a double or nothing bonus.
Bonus Deuces Wild – The two cards are wild, and the top payouts include the royal flush and four deuces with an ace.
Deuces Wild – The two cards are wild, and getting four deuces pays 1000 credits on a maximum wager of 3 credits.
Double Double Jackpot Poker – Payouts are available for a number of four-of-a-kind hand combinations.
Joker Poker – A joker is added to the deck and substitutes for any other card.
Pick'em Poker – The player receives two face-up cards, as well as a couple of three-card hands with only the top card visible on each. The player must then decide which three-card set to add to make the best five-card hand.
If you're looking for the video poker game with the lowest house edge, I suggest Aces & Eights with its 99.78% return rate. If you opt for Jacks or Better, just make sure the paytable is 9/6 (99.54% return) instead of 8/5 (97.29% return).
Specialty Games
There are 13 other games available at Cool Cat, and they include the following:
5 Diamond Blackjack – A scratch game that awards an instant prize when you beat the dealer's hand.
Craps – Win on an initial roll of 7 or 11. If another number comes up, roll it again before a 7 comes up.
Hot Dice – A craps-themed scratch game that pays on a combination of 7 or 11.
Magic 7's – A virtual scratch card game that offers cash and other prizes.
Sic Bo – Predict the roll of three dice and choose from a number of available wagers.
American Roulette – Players try to guess which pocket the ball will land in. Two zero pockets raise the house edge.
European Roulette – This version has a lower house edge thanks to only a single zero pocket on the wheel.
Keno – Select from one to 15 numbers and get paid for the number of successful matches.
Multiplayer Roulette – Choose an avatar and play this popular casino game with other online gamblers.
Bonus Bingo – A twist on the game of bingo, complete with bonus balls, multipliers, and bonus rounds.
European Slot Poker – Wager from 5 cents to $50 per hand and make the best five-card poker hand possible (and the joker is wild).
Lucky 8's – A virtual scratch card game with a leprechaun theme.
Roaring Twenties Bingo – The game of bingo with a 1920's theme. Includes bonus balls and progressive jackpots.
The house edge on keno is especially bad, so I would suggest staying away from that one. The return on the other specialty games isn't much better, although the European version of roulette does give you a clear mathematical advantage over its American counterpart.
Craps offers some of the best casino odds. The house edge on the don't pass/don't come wagers is only 1.36%, while taking the odds on pass/come or don't pass/don't come reduces the house edge all the way down to 0%.
Conclusion
While their reputation has been far from stellar in the past, it looks like Cool Cat Casino has managed to improve their overall operation. Some players may remain understandably wary about doing business with them, but there's enough evidence in my mind to warrant a cautiously optimistic recommendation.