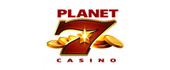 Planet 7 casino is an online gambling establishment that's part of the Ace Revenue Group. Licensed by the nation of Costa Rica, their site is available only in English. They accept players from the United States, and a limited mobile version of the casino is available.
Strong Points
The following are a few of the positive elements of Planet 7 Casino:
Acceptance of US Players – Since the passage of the UIGEA, beggars often can't be choosers. The fact that they accept American gamers is a fact that's worth celebrating.
Realtime Gaming – RTG has been in business for a long time, and the variety and quality of games is among the best in the industry.
Decent Bonus Amounts – There used to be a time when a few hundred dollars was a respectable bonus amount. When you sign up for Planet 7, you can earn up to $7,777 over your first eight deposits. The initial deposit is maxed out at $777, while the others are all capped at $1000. These are 100% matching bonuses, though, so you would need to deposit $7,777 into your account to get the full benefit.
Weak Points
The following are some of the less-than-appealing elements of Planet 7:
Licensed in Costa Rica – When someone is licensed in this gaming jurisdiction, they might as well get their credentials from a colony on Saturn. The Costa Rican government doesn't care what the gaming companies do, as long as they pay their licensing fee. There's not even a governing body to provide oversight, which means it's up to the individual online casinos whether or not they want to treat their customers fairly.
Guilt by Association – Planet 7 was once part of the Crystal Palace Group, an organization hated by players who enjoy prompt payments on winnings. Now they're part of the Ace Revenue Group, another collection of individuals with a reputation for slow-pay tactics. They have, however, cleaned up their act enough to be taken off the Casinomeister rogue list.
Reputation for Slow Payments – The site has long been known for taking forever to get winnings to customers. On the AskGamblers site, one player spoke of the site's tendency to treat players well until they started asking for winnings. Even more troubling was their assertion that payments were broken into numerous smaller installments, with a service fee being charged for each one.
It should be noted, however, that Planet 7 does seem willing to help resolve situations when they threaten to cost them business. They have representatives at a number of leading watchdog sites, and they are always prompt in responding to complaints (even if their customer service department isn't).
Take, for example, the 2012 situation involving a player and unpaid winnings of $63,768.28. As soon as the online rep was made aware of the dispute, he looked into the matter and helped both parties reach a satisfactory resolution. While the issue should've never come up in the first place, at least they didn't outright steal the funds from the player.
Confusing Terms and Conditions – I tried making sense of their lengthy terms and conditions page, but I felt like it would require a law degree to fully understand it. The section on bonus requirements and restrictions is especially detailed, and you can bet that not adhering to any part is grounds for a bonus to be revoked. While this might not be intentionally deceptive, the complicated nature of the text can lead customers into dangerous waters.
Weak Mobile Platform – While their main casino offers well over 100 games, the mobile version provides only four. This is inadequate by any standards, and mobile gaming fans should probably look elsewhere.
Planet 7 Casino Games
Planet 7 offers a wide range of online amusements, and their software is powered by Realtime Gaming. You can expect a professional experience when you sit down at your PC, with state-of-the-art graphics and animation. It's also refreshing to review a casino with so many options, as my encounter with the competing software from NuWorks was almost laughable at times due to their sparse number of specialty and table games.
While Realtime Gaming has been around since 1998, their reputation is far from flawless. One example came in 2004, when a player won $1.3 million and $96,000 while playing at two different casinos powered by RTG software. The Hampton Casino accused him of cheating and refused to pay, prompting the disgruntled customer to make his case online.
Things got predictably nasty from there, and the ensuing showdown gained mainstream media attention that resulted in some unwanted publicity for RTG. Hampton, meanwhile, was forced to clean house in order to salvage what little reputation they had left.
There was also their association with the much-maligned Crystal Palace group, an organization known for driving players to the brink of insanity with their penchant for slow payments, locking accounts, and withholding bonuses. The death of founder Warren Cloud from a heart attack, while still in his thirties, resulted in a number of RTG sites closing down.
But despite these problems, Realtime has continued to remain a force in the online gaming industry. In fairness, it should also be noted that the Crystal Palace group was removed from the Casinomeister rogue list prior to Cloud's death.
Available Games
Games at Planet 7 are grouped into the following categories:
Slot Machines
Table Games
Video Poker
Specialty Games
At some casinos I've frequented, the player could click on the name of each game and be taken to a brief description of how it worked. This was not the case with Planet 7, and the only way to learn more was to actually open an account. I didn't care for this, as I like to know as much information as possible before I commit to handing over my personal information.
Slot Machines
Planet 7 has an impressive selection of over 120 slot machines to choose from. Playing the downloadable version of the software will give you access to all of them, while the instant-play version leaves several out.
Given their lengthy history in the gaming industry, you can expect that RTG is going to offer slots with the highest quality graphics and animation. They also have a variety of themes, from the whimsical to the more traditional.
There are standard three-reel slots to choose from, but most fall into the multi-payline video slot category. All of the games come with the wild symbols, multipliers, and bonus rounds that you might expect, and there are also a number of progressives to choose from.
Unfortunately, there's no way to know the payout percentage on these games. The operator can choose from three settings when it comes to how loose or tight a game is going to be, so all you can do is risk your money and cross your fingers.
Table Games
The casino offers 15 table games, including the following:
Baccarat – The player draws up to the three cards and tries to beat the value of the banker's hand. Very much a game of chance, baccarat was featured in many of the James Bond films.
Blackjack – The objective of this classic game is to get closer to 21 than the dealer without going over.
European Blackjack – Played much like regular blackjack, although the dealer does not have a hole card and only draws their second card after the player has finished their hand.
Face Up 21 – Much like blackjack, except the dealer and player both receive two face-up cards to begin the game.
Let'em Ride – Make the best hand possible with three cards and two community cards. The player needs at least a pair of 10s to receive a payout.
Match Play 21 – Also known as "Spanish 21," this blackjack variant removes the four 10s from each deck.
Pai Gow Poker – After getting seven cards, you must make a five-card and two-card hand. If both beat the dealer's hands, then you win.
Perfect Pairs – You can win a bonus amount by getting a pair with your first two cards. Otherwise, it plays much like blackjack.
Pontoon – The player still tries to get closer to 21 than the dealer. This time, however, the dealer's first two cards are dealt face-down.
Red Dog – The player receives three cards and wins if the value of the third card is between the values of the first two.
Super 21 – Another blackjack variant with a few minor rule changes.
Texas Hold'em Bonus Poker – The biggest difference in this variant is that there's no wager after the river card is revealed.
Tri-Card Poker – Win by getting a better three-card hand than the dealer. An optional wager allows you to collect winnings if you have a pair.
Vegas Three Card Rummy – The player wins this game by getting a three-card hand of less value than the dealer's hand.
War – The player and dealer compare cards one at a time, with the higher card being declared the winner. In the case of a tie, the player may double their bet and go to war.
One of the best options for players who like a low house edge is Match Play 21. When the dealer is required to hit on a soft 17, the house edge is 0.76%. When the dealer is forced to stand on a soft 17, the house edge is reduced to a manageable 0.40%.
For those seeking the best casino odds on table games, other solid options include traditional blackjack or perfect pairs blackjack. Both of these games carry a modest house edge of 0.54%.
Video Poker
There are 16 RTG video poker games to choose from. They are:
Aces and Eights – While a pair of jacks is enough to win money, special bonuses are available for four aces, sevens, or eights.
All American Poker – A variation of Jacks or Better, with an altered pay table.
Bonus Deuces Wild – The deuces are wild, and a three-of-a-kind hand is the minimum for getting a payout. Several special payouts are also available for specific card combinations.
Bonus Poker – Get paid for a pair of jacks or better, and activate a special payment for four-of-a-kind.
Bonus Poker Deluxe – Much like Bonus Poker, except a few of the payouts are increased.
Deuces Wild – The deuce cards are wild, and you'll need at least a three-of-a-kind to get paid. If a wild card makes a royal flush or five-of-a-kind hand, a special payout is issued.
Double Bonus Poker – This game follows the usual jacks or better payout format, although getting a four-of-a-kind hand results in a bonus payout.
Double Double Bonus Poker – Much like the previous entry, except some four-of-a-kind hands pay larger bonuses.
Double Double Jackpot Poker – Four-of-a-kind hands offer bonus payouts, while a pair of jacks or better is required to finish in the money.
Double Jackpot Poker – The player needs a pair of jacks or better to win money, and special payouts are offered for different four-of-a-kind hands.
Jacks or Better – This classic version of video poker pays when the player gets at least a pair of jacks.
Joker Poker – The joker cards are wild, and a pair of kings or better is required for a payout.
Loose Deuces – Twos are wild in this game, and at least a three-of-a-kind is required for a payout.
Mystery Bonus Poker – Combines video poker with slots. Try to make the best hand or go for the mystery bonus.
Pick'em Poker – Two cards are dealt face up. Then a pair of three-card hands is dealt, but only the top card is visible. Based on the visible cards, the player tries to guess which hand is superior.
Sevens Wild – The seven cards are wild, and the player must have three of a kind of better to receive a payout.
Both single hand and multi-hand video poker games are available at Planet 7 Casino. In the case of the latter, players may choose to play 3, 10, 52, or 100 hands at the same time, with wagers ranging from a penny to $1 per hand.
According to this Realtime Gaming video poker return chart from the Wizard of Odds, you'll receive the best overall return on Aces and Eights (99.78%), Double Jackpot (99.63%), and All American (99.60%). The lowest return comes from the multi-hand version of Jacks or Better (97.29%).
Specialty Games
Fourteen gaming options are also available. These include:
5 Diamond Blackjack – This is a scratch card game where you try to beat the dealer's hand.
American Roulette – An extra zero pocket is added to the wheel, resulting in a higher house edge.
Bonus Bingo – The standard game of bingo with twists such as multipliers, bonus rounds, and special balls.
Craps – Roll dice on the virtual table and choose from a wide variety of wagers.
European Roulette – This version of the game has a single zero pocket and a lower house edge.
European Slot Poker – A combination of a slot and video poker machine, this game pays out when players get two, three, or five matching symbols.
French Roulette – A multi-player version of roulette where the names of all the bets are in French.
Hot Dice – Scratch off a 7 or 11 to win, and this amount can be increased by multipliers up to 2000X.
Keno – Twenty numbers are drawn at random, and you win based on how many you can correctly guess beforehand. From one to 20 numbers can be chosen by the player.
Lucky 8's – This is a scratch card game with a leprechaun theme. Multipliers range from 1X to 4000X.
Magic 7's – Uncover a seven on this scratch card game to win prizes. If you uncover a magic hat, you'll win double.
Multiplayer Roulette – Play roulette with multiple casino patrons. There's also limited time between spins, which is meant to duplicate the excitement and pressure of playing at a real casino.
Roaring Twenties Bingo – Play up to 100 cards at a time for a chance to win minor and major progressive jackpots.
Sic Bo – The player wagers on the result of three dice being rolled. Payouts go as high as 180:1.
If you're hoping for a low house edge on these games, you may come away disappointed. The lowest I could find was 1.35% for even money bets on the French version of roulette. Most games are in the 2% to 3% range, and the scratch card games are impossible to quantify mathematically. If you play any of these, just concentrate on having fun and view any wins as an added bonus.
Banking
Planet 7 boasts that it has one of the best records when it comes to accepting deposits, but that's not much of a claim. Of course they're going to make it easy for customers to deposit money. Otherwise, the casino would die a quick death due to lack of revenue.
They list Visa and Neteller as their preferred methods of deposit, but you can contact customer service to find out about additional options. Maybe I'm lazy, but why couldn't they just put that information on the page and save me a lot of hassle?
The three options for withdrawals are Neteller, bank wire, and bank checks. According to their site, standard withdrawal requests will be approved or denied within three days. If approved, payment is then sent within another 7 days.
According to their terms and conditions, "the withdrawal amount paid or processed to players on a weekly or monthly basis may vary." It's also mentioned that payouts may be split up into smaller payments, each with a different approval time.
If you know how to read between the lines, the details in the last paragraph are saying, "We'll get around to paying you when we feel like it." There's also the time-honored tactic of slow paying customers in the hope that they'll end up gambling away some of the winnings they had requested.
Conclusion
While I've seen online gaming establishments that were worse, Planet 7 Casino has enough problems and red flags that I can't recommend them. I love their massive selection, but all the cool slots and table games in the world don't matter if the casino is going to string you along when it comes to payouts. Add in ownership with a bad reputation–as well as a gaming jurisdiction where anything goes–and the player is entirely at the mercy of the casino. If you consider yourself a smart player, look elsewhere for your online gambling experience.