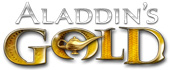 Aladdin's Gold Casino is a gambling website that holds a gaming license from the Kahnawake Gaming Commission. Part of the Club World Casino network, Aladdin's Gold operates on Realtime Gaming software and actively markets to and accepts play from US customers. Accepted currencies include the US dollar, the British Pound, and the Euro.
Customers from the following countries are restricted from placing real-money wagers at this site – the Netherlands Antilles, Costa Rica, Israel, the United Kingdom, Northern Ireland, the Channel Islands, the Isle of Man, and France.
Pros and Cons
When a casino accepts American customers, a caution light goes off in my head. But Aladdin's Gold is not listed as a "rogue casino" at any of the usual watchdog sites. Yes, I found customer complaints, including one that appears still unresolved. Those are listed below, in a breakdown of the highs and lows of membership at Aladdin's Gold Casino. I also like that they are able to "refund" credit card deposits – it's a no-fee way to get a withdrawal that some casinos use, and apparently Aladdin's Gold can even pull this off with some North American customers.
Pros – The site accepts American customers. The games are easy to access and play, since they're available as a download package or as instant play titles for both traditional and mobile browsers. The site is a member of the Club World Group, which has a decent reputation for being an online gambling network that markets to Americans. As a video poker fan, I like that they have (at least one) 9/6 video poker game, and a good selection of multi-play video poker games. The fact that the site operates a 24-hour live chat customer service program makes support concerns easy to fix.
I want to talk about something a little weird, now; something I don't usually go too much into. Website terms and conditions pages. I bring it up because one of my favorite features about Aladdin's Gold is their excellent terms and conditions page. Right there, all in one place, is every detail a players could need in terms of how the casino pays out winnings and bonuses and generally conducts business. The language isn't dense or anything – I figure anyone who can read at the junior high level can understand it. I like that kind of transparency.
Of course, any time you dig too deep in the fine print at a gambling website, you're going to get a little freaked out by some of what you read there. Some of the language included comes from licensure requirements; other pieces of legal-ese you'll read in T&C's is "Cover Your Ass"-type stuff required by a legal department. I read these pages because I think it's important to know as much as I can about a business before I trust them with my money.
But it can get a little weird, and you have to use the information you find in context for it to be useful.
Take a look at this strange clause I found covering bonuses on the site's Terms & Conditions page – "AGC reserves the right to refuse or rescind bonus credits and offerings, or prevent future access to AGC for any reason at its sole discretion." Reading on, I also learned that "full and part-time students" (aged 25 years or younger) are not allowed to play for real money at Aladdin's Gold.
The T&C page at any gaming site is pretty fascinating, if you're a casino dork like me.
About those two odd lines in the T&C's – I like the restriction against college students joining the site. I did some digging and I couldn't find a solid source, but I believe that clause is a condition of their gaming license, part of a responsible gaming initiative required by the Kahnawake Gaming Commission. I don't know how they can possibly police it – do they have a list of college students and their ages they can compare their member list to? Still, it's a good policy to protect a population vulnerable to irresponsible gaming.
As for that clause about "rescind[ing] bonus credits and offerings . . . for any reason," that requires some more research. On the one hand, it reminds me of the infamous FU Clause described by Casinomeister.com. A true FU Clause, as defined by that site, is a catch-all statement that gives the casino the right to screw the player. But I couldn't find any examples of Aladdin's Gold using this clause to "screw players."
Here's a player complaining on AskGamblers.com about having issues getting his address verified and also mentioning his experience of lackluster customer support. The complaint is still unresolved, and it does seem like the customer support staff is giving him a tough time. But this is not an example of the FU Clause in action.
This player complaint may be a bit more relevant to our discussion of the Aladdin's Gold "right to refuse" clause. From the time of his complaint (involving a payout issue) to the time of resolution, some fifteen months passed. Aladdin's Gold never once attempted to use the clause in question to outright refuse his bonuses, so yet again, we have an example of Aladdin's Gold not putting the FU Clause into effect.
In fact, I couldn't find one reputable source describing how Aladdin's Gold exercised their right to refuse credits or play "at its sole discretion." I think of this clause as similar to the one restaurants use that say "We reserve the right to refuse service to anyone." They do that to give them a legal right to kick out drunks and trouble-makers. Aladdin's Gold as a clause giving them the right to refuse payouts and play to people who don't deserve it, most likely bonus-cheaters. They simply don't use it to steal from their players.
Cons – The biggest con, to me, is the gaming license the site holds from the Kahnawake Gaming Commission. This is little more than a small group of people from a tiny Native tribe on the US-Canada border selling licenses to hundreds of gaming interests around the world.
Holding a license from this jurisdiction is not immediate proof of foul play, but it's a warning sign. A couple of poker rooms licensed out of that jurisdiction were indicted for fraud by the Justice Department a few years ago. During that case, the KGC refused to identify a high-level employee caught cheating, which isn't great for a company's reputation. This was all three or four years ago, so maybe things have changed. It's something to consider.
I don't want to come across as some politically-correct bleeding-heart type, but I just don't like the design features used to support the already-pretty-racist "Aladdin's Gold" theme. The characters used in backgrounds and other design features are pretty much Western stereotypes of "Arabs," with twisting mustaches and magic carpets aplenty. The sound effects are even more overtly racist. I turned them off immediately. This is a big turn-off for me. Decide for yourself, I think it's pretty offensive.
Another thing I don't like – the wager requirement values the site institutes for different games. They aren't unreasonable, but they aren't anywhere near the most player-friendly in the business. According to the T&C's, the value of games in terms of clearing bonus requirements is as follows for all bonuses:
Slots, Video Slots, Keno, Scratch Cards – 100%
Roulette – 40%
Casino Poker Games – 25%
Video Poker – 20%
Blackjack, Blackjack variants, Baccarat, War, Craps, Sic Bo – 10%
Every casino weighs the value of playthrough requirements like this – games like blackjack and video poker that give the house a smaller advantage don't count as much as games like slots and keno that favor the house more. That's standard practice. But it's still a con for me, because it applies across all the site's bonuses. It also means my favorite games don't count much toward any bonuses I want to clear, so for me it's a big con.
I'm no fan of Real Time Gaming, but some people don't mind their software. Like a lot of RTG-powered sites, the slot collection is mostly those repetitive Real Series games that don't keep my attention for more than a couple of minutes. The mobile site, like most RTG-powered mobile sites, is not good-looking at all, identical to all the other mobile casinos RTG designs, and has too few games for any real replay value.
Aladdin's Gold Casino Games Available
The total number of games available at Aladdin's Gold Casino on my last visit was 121 – I like to be precise. The game library is broken up into six categories: Real Series, Slots, Video Poker, Table Games, Specialty Games, and Progressives.
Real Series
Collected here are the site's 78 Real Series slot titles. This is one of Realtime Gaming's weakest areas, in terms of design. I'm a big slots fan, and I'm just not partial to Real Series titles, and RTG sure produces a ton of them. The games look and behave so similarly that switching titles basically means switching symbols. There's little replay value.
Take note that RTG allows casinos to set their own payout percentages on slot games, so I can't tell you which of Aladdin's Gold's Real Series games gives you the best return. This is common among online slot designers, so no big deal here.
Slots
The thirteen slots here are further broken up into three categories: Video Slots, Bonus 3-Reel, and 3-Reel Classics. Aladdin's Gold basically stuck all their RTG titles that AREN'T from the Real Series line under this heading. The thing is, I actually enjoy these games a lot more.
Sure, the 3-reel titles are a little simple. But Video Slots like Jazz Time actually kept me interested, even in pretend-money mode, and offer some unique gameplay.
Video Poker
Thirteen RTG video poker titles are available at Aladdin's Gold. Of course this includes the classics like Jacks or Better, but it also includes less-familiar entries like All-American Poker. Every video poker game is available in multi-hand formats, though the number of hands varies from title to title.
The site has just one 9/6 title – classic Jacks or Better in single-hand format only. This 9/6 format gives the player the best advantage against the house. In the case of RTG's classic J or B single-hand game, the casino's edge is just 0.46%, according to Wizard of Odds. I wish more 9/6 games were available, but at least the site has one, which is more than I can say of other American-facing RTG casinos.
Table Games
The list of games available under Aladdin's Gold "Table Games" header is currently:
Baccarat
Tri-Card Poker
Blackjack
Match Play 21
Pai Gow Poker
Perfect Pairs
Red Dog
Face-Up 21
Texas Holdem Bonus Poker
Vegas Three-Card Rummy
As I often find at RTG-powered sites, most of their table games are variations on the classic game of 21. The remaining games on the list are card-based gambles, most with long odds for players.
Specialty Games
I think the games collected under the "Specialty' heading is an odd group, indeed. At the time of my review, this collection included the following games:
Craps
European Roulette
American Roulette
Bonus Bingo
Sic Bo
Keno
European Slot Poker
Scratch Cards
The scratch card games produced by RTG has absolutely no odds information available anywhere online, so bets on these virtual lotto tickets are probably long shots. Including traditional classics (roulette and craps) that offer decently-good odds for players alongside oddball contests (with hefty house advantages) like scratch cards, Keno, and Sic Bo just doesn't make sense.
Progressives
The games gathered here aren't part of a unique group; instead, Aladdin's Gold has gathered all their games with progressive jackpots in one place. It's convenient if you're the type of player that chases progressive top prizes. At my last visit, ten progressive games are hosted at the site, three of which were based on side wagers for casino-style poker games collected in the Table Games heading. It's a pretty small selection compared to some of the world's better gaming sites.
Aladdin's Gold Casino Bonuses and Promotions
I just checked out the casino's promotions page, and here are details on their two current promotional programs:
200% Welcome (and Reload) Bonus
This bonus is available to both new depositors and players who are reloading their account. It's good for a 200% deposit match with a limit based on the size of your deposit and your VIP level. That's a little fishy, but since I don't go in for this type of deposit anyway, it doesn't bother me that much.
Unique Daily Bonus Offers
The site has a different bonus offer for every day of the week. Here's a quick guide to what was on offer when I visited:

Sunday – A 70% deposit match bonus valid on slot games.
Monday – A 65% deposit match bonus valid for blackjack and poker games.
Tuesday – A 67% deposit match bonus valid on slot games.
Wednesday – A 67% deposit match bonus valid on any game but limited to $650.
Thursday – A 63% deposit match bonus plus a 25% cash back offer on select games.
Friday – A 60% deposit match bonus offer plus 25 free spins, valid for slots games.
Saturday – A 65% deposit match bonus capped at $100, aimed at low-budget players like me.
Conclusion
I don't want to recommend Aladdin's Gold Casino but I don't want to warn people away, either. On the one hand, it's hard to find unresolved customer complaints, so it's not like they're defrauding customers. On the other hand, they're licensed out of Kahnawake, and they offer real-money play to American customers, both of which can be signs of foul play. If you don't mind RTG software, and if you're an American without much choice in terms of where to play, Aladdin's Gold is as good a place to play as any.