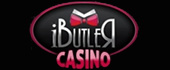 iButler Casino has one of the worst names in online casino history.  That is saying a lot considering some of the brands we have seen rolled out over the years.  The name is not the only blunder pulled off by this company.
iButler Casino launched in 2011.  It used 36Gaming software.  The two companies were located in Malta.  A licensed was issued to iButler Casino by the Lotteries and Gaming Authority in Malta in 2008, according to the company's website at the time.
Spamming Forums
The site came out spamming forums.  This was discovered quickly as first time posters would start threads in online casino forums talking about how great iButler Casino was, a site nobody had heard of at the time.  While this could be a coincidence, forum owners busted the spammer by matching the IP address to the account of the registered site representative.
Stealing Games
The problems do not stop there.  An observant player at Casinomeister discovered that a slot game titled Rich Horrific was exactly the same as Scary Rich, a game spread by Rival Casinos.  It seems 36Gaming, the software provider for iButler, simply switched the two words in the title and found a synonym for a game it took from another site.  A rep for iButler did not seem to find any issue with this saying it was just a coincidence.
Closure and 36Gaming Rebrands
iButler Casino eventually shut down.  There were no complaints of nonpayment, perhaps because nobody ever played there.  The 36gaming.com website was eventually shut down.  36Gaming rebranded as Kslots.  It uses the same exact website template and content as 36Gaming did.  One notable difference is that there is no mention of the Rich Horrific slot in its list of available games.  The logo is nearly identical to the one used by the 36Gaming site, according to a search on the Wayback Machine.
Luckily for players, there do not appear to be any live Kslots casinos.  The Kslots website is used to sell potential licensees on the product.
Kslots has a YouTube account.  The last video upload was on April 5, 2013.  The number of views for most of its videos, which are also posted on the Kslots website, is in the single digits.
A preview of the games in these videos shows terrible player returns.  A video of Jacks or Better shows a pay table of 6 on a full house and 5 on a flush.  Full pay Jacks or Better pays 9 on a full house and 6 on a flush.  The royal flush only pays 100-1 at Kslots, which is an 800-1 pay on a standard machine, even those that short pay other hands.