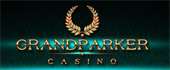 Grand Parker Casino is a Realtime Gaming powered gambling website licensed in Curacao. One of five Web-based casinos operated by the Milore Limited group, Grand Parker has been in business since 2011. Both English and French versions of the site exist. Players from the United States are allowed to open accounts and place real-money wagers.
The Pros and Cons of Grand Parker Casino
I don't recommend playing at Grand Parker Casino, but to be fair, I've listed both the pros and cons of playing there.  You'll find worse places to play, but you can certainly find better places, too.
Pros – For United States gamblers, the biggest pro is that they're allowed to play for real money here. After the passage of UIGEA (the Unlawful Internet Gambling Enforcement Act) in 2006, most online casinos stopped accepting real money players from the USA. Grand Parker Casino is one of the exceptions.
Another pro for some players is the RTG (Realtime Gaming) software. RTG is a well-known name in the industry, used by several legitimate online casinos. The games on this platform are best described as adequate but uninspired.
Grand Parker also offers some of the most generous signup bonuses on the Internet. This aspect of their service is arguably a drawback rather than a point in their favor, as their wagering requirements are as stringent as their bonus amounts are large. I cover the bonuses in more detail in the "bonuses" section below.
Cons –Grand Parker is listed as a rogue casino by a large number of reviewers. Casinomeister.com is one of the best known "online casino watchdogs" on the Internet, and he lists all of the Milore Limited sites on his blacklist.
Grand Parker also receives bad reviews from the following player advocates:
From ThePogg.com: "As part of the Revenue Jet group of – that use RealTime [sic] Gaming software – Grand Parker have a chequered history of non-communication with dispute mediators."
From CasinoListings.com: "The casinos run by Milore Limited have always had a reputation for slow payment, with withdrawals usually coming through to players in small instalments [sic] such as $500 a fortnight. They were fairly reliable until recently when we began receiving complaints of non-payment that we were unable to resolve through our contact with the casino's management."
The scary quotes seem endless. You'll find no lack of complaints about unethical business practices, slow payment times, and what appear to be outright rip-offs by the site's management.
One of the biggest problems with Grand Parker is what Casinomeister calls an "FU clause". In the site's terms and conditions, they limit the amount of money winners can withdraw each week to $3000. BUT they also retain the right to lower that amount based on their categorization of the player. This is a condition they share with another less-than-worthy online casino, WinPalace.
Casinomeister also connects Milore Limited to the WinPalace Group. I can't find anything directly linking the two, and I couldn't find any evidence of their association on Casinomeister's site. He just states it as a matter of commonly-known fact. Since WinPalace is also on multiple online casino blacklists, this is another bad omen for prospective player.
But I read at least one player discussion thread where someone posting as KasinoKing said he'd met the operators at a convention, and even though Grand Parker's marketing manager used to work for WinPalace, the two companies were not related. In fairness to the casino, the players posting in that thread indicated that they did get paid their winnings, albeit more slowly than they would have liked. They also complained that the casino was marketing to them more aggressively than they would have preferred.
Another, more recent discussion thread, relates a player's experience trying to withdraw after fulfilling his wagering requirements. His withdrawal was not approved because his account had been chosen for a "random security check". The player did eventually get paid, but who could blame you for wondering if his public complaint motivated the casino to make good on his payout?
Grand Parker's game variety is limited, especially in the choice of slots and video poker games. Realtime Gaming performs adequately at best in terms of game selection, but Grand Parker seems to have chosen only a limited number of their slot games. The result is a list of fifty-nine slots that look and act almost exactly the same. It's a really boring experience, especially when compared to the incredible slot games being released by designers like BetSoft and NetEnt.
Casino Games Available
This casino provides both instant-play and downloadable casino games. A mobile version of the site is also available for play on smart-phones and tablets, though the graphics and menus skew pretty badly on tablet-size displays.
One of my quibbles with RTG is actually a feature of their overall design philosophy – the designer makes the games in such a way that every casino running them can configure them differently. It's almost impossible to give out facts about RTG games – from the number of decks in each blackjack title to the return to player percentage for their slot machine games, there's no telling just from the designer what sort of odds you can expect from a number of casino classics.
Grand Parker divides their game library into four categories: Specialty Games, Table Games, Video Games, and Slots Games.
Specialty Games
Three traditional specialty titles are here – Bonus Bingo, Keno, and Sic Bo, full of terrible bets with a hefty casino advantage. But also included are two forms of roulette and craps, all of which are considered "table games" by anyone's standard.
Three lotto-style scratch-off ticket games are also in this category. Called Hot Dice, Lucky Eights, and Magic Sevens, they're all typical RTG creations. I've never understood the appeal of playing a scratch-off game online. These titles do nothing to entice me – the rules are practically identical, and the actual game-play is repetitive.
I love roulette and craps, European roulette in particular. Grand Parker hosts an American version as well, but the US version's addition betting space means the overall odds are much worse for the player. Stick to European roulette if you're going to play at Grand Parker. The house edge on the American version of the game is 5.26%, compared to a relatively low house edge of 2.70% on the European version. The difference is the number of 0s on the wheel; the European version of the game has only a single zero, while the American version has two.
Craps is a great game if you stick with the simpler bets. The rule of thumb with this game is that the more complicated the bet, the higher the house edge. Pass and don't pass, along with the accompanying odds bets, offer the best odds for the player. Realtime Gaming's craps games rounds winnings down to the nearest quarter, and Michael Shackleford, the "Wizard of Odds", seems to think that the "help screen" instructions for this game are wrong about a few other details.
Table Games
A better name for this section might be: "Card Games." Each of the fourteen titles now available is card-based. Here's the list:
Baccarat
Blackjack
Super 21
Face Up 21
Pai Gow Poker
Pontoon
Red Dog
Tri Card Poker
Vegas Three Card Rummy
Vegas Three Card Rummy 2
War
Match Play 21
Perfect Pairs
European Blackjack
Most of these are variations on blackjack. If you're familiar with other RTG casinos, you know this isn't unusual for sites that license their software.
Video Games
Each of the nineteen titles here is a video poker game, so Grand Parker could just as easily have named this section "Video Poker Games". Realtime Gaming casinos feature the same lineup of video poker titles. It includes the standard editions (Jacks or Better, Joker Poker, etc.) as well as a number of variations on these common themes.
Slots Games
I dislike Realtime Gaming slots. Most of them get boring after just a couple of plays, even when you change titles. The fifty-nine slot machine games in Grand Parker's library are the same game with variations that amount to nothing more than window dressing. Even the screenshots are almost identical.
Fifty-nine slots titles is a pitifully small selection for a modern Internet casino. You'll find more variety at almost any other Internet casino. Notably absent from Grand Parker's choices are the progressive jackpot games available via Realtime Gaming. If you are going to play slots at an RTG casino, at least choose on which offers the progressive jackpot games, which are generally of better quality than the rest of their library.
Welcome Bonuses
Grand Parker's homepage design emphasizes the size of their welcome bonus. The $8000 bonus on the first three deposits is one of the larger offers in the industry, and the matching percentages of 250% and 300% are excellent.  This offer is their "slots bonus".
Like most online casinos, Grand Parker does have wagering requirements to meet before you can withdraw any winnings. In this casino's case, you're required to wager your bonus plus your deposit amount 30 times before you're eligible to make a withdrawal.
If you deposit $250 and get the $750 bonus, you're looking at $30,000 in wagering requirements. Their standard offer requires you to meet those wagering requirements by playing the slot machine games, keno, or bonus bingo.
A reasonably well-heeled player playing for $3 a spin needs to make 10,000 spins to meet that wagering requirement. An average slots player makes about 500 spins per hour, so the wagering requirement (in this example) takes 20 hours of play to meet.
I don't know what the RTP (return to player) percentage is for their slots, but if you assume a relatively generous 96% payback percentage, you're looking at a theoretical expected loss of $3600. Since your starting bankroll is $1000 (including the bonus), the odds of walking away a winner after meeting the wagering requirements are minimal.
Grand Parker also offers a $5000 "table games bonus", which has the same play-through requirements of thirty times the deposit plus bonus.  This consists of four bonuses of 125% (up to $1250) on each of your first four deposits. But the terms of these wagering requirements are deceptive.
Even though the wagering requirements are still only thirty times, only 25% of the amount you wager on table games counts toward fulfilling those requirements. So the real wagering requirements when playing table games are 120 times your deposit plus bonus. You're allowed to play the following games with the table games bonus:
Blackjack
Perfect Pairs
Texas Holdem Bonus Poker
Let Em Ride
Red Dog
Video Poker
But other traditional table games, like roulette, craps, baccarat, Pai Gow Poker, Sic Bo, bingo and poker don't count toward your wagering requirements.  In fact, if you play any of these games before fulfilling your wagering requirements, you'll invalidate your bonus altogether.
An average blackjack player betting $50 per hand plays an average of 200 hands per hour. That's $1000 per hour in action. With the wagering requirements Grand Parker has in place, it will take 1080 hours to complete the wagering requirements on the maximum deposit plus bonus. That's the equivalent of working a full time job for six months.
If this average blackjack player uses good basic strategy and keeps the casino's edge down to 1%, her theoretical expected loss is $10,800. Since your starting bankroll is $9000, your chances of walking away a winner are small. Even if you do walk away a winner, chances are good that your win will be small.
These aren't unusual terms for a signup bonus on the Internet, but the wagering requirements make the tremendous size of the welcome bonuses less impressive.
Conclusion
Grand Parker is at best a below-average choice for players living in the United States. It only rates that highly because U.S. players have such a limited number of choices. Bettors living outside of America should avoid this casino altogether. The Realtime Gaming software is average at best, and the variety of games Grand Parker chooses from their library is disappointingly limited.
The wagering requirements attached to the tremendous bonuses make them practically worthless, too.