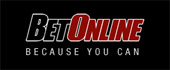 BetOnline Casino is a branch of the BetOnline brand, which includes sites for sports betting, race betting, head-to-head poker, and casino games. BetOnline is a privately-held company that maintains gaming licensure from the jurisdiction of Panama. The casino arm of BetOnline uses BetSoft gaming software and is open to customers from the American market. BetOnline Casino and its customer support services are available in fifteen languages, including English, Spanish, and Mandarin Chinese.
Pros and Cons
I have mixed feelings about all of BetOnline's betting products, but the casino site does get a few things right. Here are my personal pros and cons about dealing with BetOnline as a player.
Pros – BetOnline Casino is USA-friendly; that's a big plus for American players. The site's long list of supported languages and currencies is impressive. It's also an indication that their customer base is spread around the globe. Though not available to all players, the site's available payment processing methods number into the dozens, making the site more player-friendly as a whole. I'm a big fan of BetSoft games, and all BetOnline Casino titles were designed by that company. BetSoft games look better and offer me higher replay value than their competitor designers, excepting maybe NetEnt and a few proprietary systems.
Cons – When I look into the particular of any gambling website, I start by looking at the licensing authority that provides their gaming license. In BetOnline's case, that authority is Panama. That's definitely one for the "con" category.
For starters, Panama licenses a large number of blacklisted casinos.
The reviews of licensing authorities at CasinoListings is one source of information about this topic; here's what that site has to say about Panamanian gaming licensure:
There is no authority or official process to follow in the case of any disputes with a casino operator licensed in Panama. Panama has some regulations set in place but as it is relatively easy to obtain a license in this jurisdiction, casinos operating from Panama should not be fully trusted without a proven track record. We urge caution for prospective players thinking about depositing their money at a Panama-licensed casino.
That there is no official process to follow to make a dispute with the licensing authority is a startling revelation, but take note of that final sentence. "Urging caution" is nowhere near the same as warning people away from something altogether. Heck, I urge caution anytime you make any kind of business exchange, not just when you make deposits to online casinos. Do you check under the hood and kick the tires before you buy a used car? It makes just as much sense to proceed with caution when you deposit money to an online gaming business. BetOnline's affiliation with Panama simply makes that caution a little more necessary than it already was.
Good news for BetOnline – I was pleasantly surprised by the lack of red flags that popped up as I researched customer complaints about BetOnline Casino. Here's the worst of what I could find:
I read more than a few complaints about BetOnline's live chat program, most of which revolved around how long it takes to get help through the system and because of how feckless the live chat agents are. Take a look at this review of BetOnline posted at AskGamblers.com – notice how he calls the live chat experience "a little crazy," and how every time he speaks with live support they ask for his log-in and password. This is one of a few examples I read where players talked about how ineffective the live chat support is.
I found a smattering of complaints about lengthy payout times and high processing fees. This Casinomeister forum complaint (posted less than a year before I wrote this review) outlines some specific customer service complaints, including more live chat difficulties. Take note of the $20 fee the player was charged for a payment processed through Skrill. The complaint was handled, eventually, but the thread is clear about issues people have with customer support at this casino, not to mention the confusing nature of their fee structure.
A complaint on the CasinoListings.com forum from 2011 tells a similar story about payout times. In this case, BetOnline took thirteen days to deliver a check that the customer paid $50 to receive "express," meaning within seven days. Though the player in this case got her money, it was five days late, and the $50 fee wasn't refunded, so stay away from trying to get your money from BetOnline Casino faster through their express services. It seems like a waste of money.
Other complaints I have about the site – BetSoft doesn't post theoretical payout percentages, so for advantage gamblers the software is useless. I don't like the bonuses discussed below (more specifically, I don't like their terms and conditions), and I find the layout of the site clunky and not exactly user-friendly. I had to adjust the settings on my laptop AND tablet displays a little bit to make the site look right. The mobile version looked "right," it just isn't that attractive, and that's a surprise for a BetSoft-powered site.
BetOnline Casino Games Available
One thing I want to mention about Betsoft, the designer responsible for the games at this site, is that I can't personally find any reliable source for payout percentages on their games. I started at their website, looking in particular at the landing page for their popular line of 3D slots games, but the data wasn't there. I couldn't find a quotable source elsewhere for this info, either. That's a downer for a guy like me, who likes to bet on games that give me the best odds. It means I can't compare games through theoretical payouts and form a bankroll strategy.
That aside, I like most of the games this site hosts. BetOnline's game library is broken up into just four categories: Table Games, Slots, 3D Slots, and Video Poker. Below is a description of each category and a few specifics about the games in the library.
Table Games
BetOnline Casino's table game library is made up of seventeen classic games and their variations. This list includes six variation of blackjack, both American and Euro roulette, craps, baccarat, and seven forms of casino-style poker and card games. It's a typical layout for the heading "Table Games."
Although I can't tell you anything specific about which of these BetSoft titles gives the player the best odds, I can say that their blackjack titles are more realistic-looking than the competition, and that the games seem to run more smoothly than at the RTG sites I visit.
Slots
The site hosts nineteen games under the Slots heading. These are not the only slots available – check the 3D Slots section for the more-impressive BetSoft slots games. This is where the run-of-the-mill games appear.
An example of the kind of title housed in the "Slots" category is Jackpot Jamba. This is a five-reel, nine-payline slot with a progressive jackpot. It feels and looks like a game I'd have played fifteen years ago in a casino in the American Midwest. The games are repetitive, and even features like progressives and wild cards don't make this slots player all that interested in going back for more.
3D Slots
BetOnline's twenty-two 3D Slots titles are some of BetSoft's best games. They're so much better than the titles house in the plain-old Slots section, it's almost ridiculous to even separate the two. I'll give a specific example of a BetSoft 3D game I play over and over.
Heist is a slot built around a robbery theme. In the game, you get to play as a burglar breaking into a huge bank vault. The symbols and other features are all well-designed to fit this theme, and the vault-breaking bonus game is even fun to play with pretend money. It may look like a typical five-reel game, but the added effects and side games make it more like a video game than anything else.
It's not just Heist that kept me glued to this category – all of the twenty-two 3D BetSoft titles at BetOnline Casino earn high reviews from your fellow slots fans.
Video Poker
I like to see a big collection of video poker games at online casinos. The game gets droll for me after a few rounds using the same rules, so I like to bounce around. Video poker fans have a lot of choice here – seventeen video poker titles are available at BetOnline Casino at the time of this review. They are:
Five Draw Poker
All American
Bonus Deluxe
Bonus Poker
Deuces Wild
Double Bonus
Double Jackpot
Jacks or Better
Joker Poker
Aces and Faces
Bonus Deluxe
Bonus Poker
Deuces Wild
Double Bonus
Double Jackpot
Jacks or Better
Joker Poker
Though Betsoft is known for making pretty three-dimensional games, their weakest effort has to be in video poker. It's something of a surprise, since video poker play in a live casino is so similar to playing a computer game. You'd think it would be easy for them to port these games for Web-based and mobile play in as attractive a format as they use for slots. But there the video poker games sit, not quite 3D, not quite cartoony, with annoying sound effects.
BetOnline Casino Bonuses and Promotions
Because BetOnline runs several different gaming establishments under the same umbrella, their promotions page is lengthy and a little confusing at first. For casino gamblers, only five offers currently apply. I like that BetOnline makes the promos easy to understand by including a Terms & Conditions link alongside each bonus description.
Here is a breakdown of each of the site's current casino promo offers.
Monthly High Roller Bonus
This bonus is for casino players who wager more than $75k in action in a single month. The specifics of the bonus aren't mentioned – but rest assured, whales like this get special deals online like they do in land-based casinos.
Live Dealer Casino $25 Free Play
When new members try out the site's Live Dealer games for the first time, they can earn up to $25 in free play. The rollover requirement is six times the anticipated bonus, and only Live Dealer games count toward clearing the wagering requirement. The site promises that even if you lose, you can earn a rebate of up to $25, but if you read the fine print, the site clearly states that this rebate can only be spent at the sportsbook or racebook, not the casino.
25% Reload Bonus
Players who opt in to this bonus and deposit $25 or more can earn a 25% free play bonus on reload or repeat deposits up to a limit of $3,000. This bonus has a 50x rollover requirement, which isn't the worst I've ever seen, but it's close to it.
100% Slots Match Bonus
Aimed at slot players, this is a deposit match at a rate of 100% on deposits of $100 or more only. This bonus is capped at $5,000, and requires a rollover of 50x the bonus plus deposit, similar to above match bonuses.
10% Rebate Program on Casino Play
Players are eligible to earn a 10% rebate on losses – on certain games and according to some very specific terms and conditions. Losses of $99 or less are not considered. The rollover to earn this rebate is, again, 50x, but there's an even more ridiculous condition that most players won't notice. The wagering requirement cannot be satisfied by bets on blackjack, baccarat, craps, roulette, or any game from the Live or Mobile casinos. That's a long list of excluded titles and it effectively turns this offer into a slots/video poker exclusive bonus.
Conclusion
I am of a double mind about at least two of BetOnline's services – the casino and the live poker sites. On the one hand, they seem to be an otherwise above-board business that sometimes drops the ball on customer service. On the other hand, licensure from Panama isn't a ringing endorsement, and I'm not wild about their promotions and the attached T&C's.
I remain neutral on BetOnline Casino. If you're a slots fan like me, you'll like the fact that the site runs BetSoft games. BetOnline is certainly accessible across a variety of platforms – instant-play, download, and mobile versions are available to players all over the world, including the USA and Canada. Just be cautious about your financial transactions, and take note that live chat support probably won't be of much help.