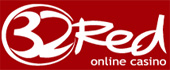 32Red is an online casino that was established in 2002 and provides over 500 games for its clients. The site also offers bingo, poker, and sports betting. The company is based and licensed in Gibraltar, and they are traded on the Alternative Investment Market of the London Stock Exchange. Their website supports mobile gaming, and it also supports 12 languages (including three forms of English) and four different global currencies.
Pros – Reasons to Play at 32Red
Before you open an account at any online casino, it's always prudent to make a list of pros and cons regarding the site. If the positives far outweigh the negatives, then you should be able to deposit your money with a level of certainty.
Vast Selection of Games – Most online casinos I encounter offer anywhere from 150 to 250 games. 32Red blows those numbers out of the water, as they provide customers with a massive selection of over 500 games.
They also have downloadable and instant-play versions of their casino software. The downloadable version is installed on your computer and gives you immediate access and the full complement of games.
The instant version is ideal if you're using a computer that's not your own. While it doesn't offer as many games, there are still over 400 to choose from. That means the lesser choice still provides twice the number of options as most online gaming establishments.
Unique Selection – Since a lot of casinos use software from the same provider, you're likely to run into these options over and over. The bulk of 32Red's selection is powered by Microgaming, but they also use NextGen and Rabcat. This creates a unique mixture of playing options and helps distinguish the casino from its competitors.
Another plus is that Microgaming is one of the most respected brands in the industry. Their history stretches all the way back to the 1990s, when they developed software for use in the first online casino.
Mobile Gaming – This might seem like a given considering modern-day technology, but you'd be amazed at how many casinos are still stuck in the dark ages and not offering a mobile option to their players. That's not the case with 32Red, as they offer a solid gaming experience to meet the busy lifestyle of their customers.
There are over 18 games to choose from, with selections ranging from slots and keno to blackjack and baccarat. Apple users are a bit more limited than those with a Blackberry, but they can still choose from about a dozen games.
The graphics and sounds are crisp, and you can accomplish anything with just a few taps on the screen. There are also promotions designed just for mobile players, including a no-deposit welcome bonus and Free Chip Friday – Random players are selected to receive anywhere from 5 to 500 GBP in complimentary casino tokens.
Fast Payouts – Some of the less reputable casinos can take a month or longer to deliver winnings to their customers. With 32Red, the time for a transaction to be completed ranges from instantaneous to 24 hours. That's among the best in the industry, and they also provide a wide range of options when it comes time to choose a method of withdrawal.
Big Winners – While there are numerous elements that go into making a solid online casino, one of the most important is how much money gets paid out to customers. This not only ensures that the casino is financially solvent, but it also demonstrates that no funny business is going on with games that are rigged to be too tight.
The last time I visited 32Red, their total payouts for the year amounted to 35,145,855 GBP, and that was only 12 days into the month of February. At that point in the year, here were their biggest winners:
Matthew L. – 48,312.80 GBP
Peter B. – 36,815.89 GBP
Hiroshi N. – $26,256.00
David G. – 22,457.60 GBP
David – 21,300.00 GBP
Roy P. – 19,519.00 GBP
Christine M. – 14,001.39 GBP
Mark S. – 12,982.00 GBP
Michael R. – 11,641.00 GBP
If you're looking for some of the biggest online casino payouts, then I submit that 32Red is well worth checking out.
Superior Customer Service – When you contact the award-winning customer service department at 32Red, you can rest assured that the person on the other end is going to do everything in their power to make sure that you're satisfied.
Customer representatives can be contacted in the following ways:
Telephone
Snail Mail
Skype
Instant Chat
Email
If you need additional proof of their dedication to customer satisfaction, consider the fact that CEO Ed Ware used to work the occasional shift in the player support department. When someone who's making a small fortune takes the time to listen to customer concerns, you know something special is going on behind the scenes.
Industry Accolades – Tons of praise have been heaped on 32Red over the years, from casino watchdog sites to humble gambling reviewers like myself. Perhaps the most telling comes from Casinomeister, a site that's been advocating fair play among online casinos since 1998. They've given the following honors to 32Red during their annual Meister Awards:
Casino of the Decade (2009)
Casino of the Year (2003, 2004, 2005, 2006, 2007, 2008, and 2009)
Best Global Casino (2010, 2011)
Best Casino Group (2011)
Best Casino Manager (2007, 2008, 2011)
Few Customer Complaints – Every casino on the planet is going to have customer complaints; it just comes with the territory. The key is to look at the number of player gripes and also the validity of the supposed problems. A lot of people just don't bother to read the terms and conditions of an online casino, or they become convinced that they're being cheated when they don't win a fortune.
32Red has a significantly lower rate of complaints than their competitors. When you take out the bogus issues, you're left with an especially impressive number. Take, for example, the review section on AskGamblers: 32Red has a total of five player issues, and four of those have been resolved.
Continued Growth – This casino isn't one to rest on its laurels, and this commitment to excellence has been reflected in their performance on the London Stock Exchange. They experienced a 15% increase in total active players by the first of 2015, and they've seen five straight years of double-digit growth in revenue. That's truly impressive for a casino that's already positioned among the leaders in the industry.
Voiced by Patsy Kensit – Okay, this might seem like a silly reason to sign up with a casino, but I'm going to include it anyway. I've been smitten with British actress Patsy Kensit ever since I saw her as the doomed love interest in Lethal Weapon 2, and her later turns on television's Emmerdale and Holby City did nothing to change that.
This lovely lady is the voice of 32Red, which means you'll hear her sultry tones on games ranging from blackjack to craps. The virtual dealers at most casinos are mute, so it's refreshing to find one that offers at least the illusion of human interaction. The fact that it happens to be one of my favorite European sex symbols is just an added bonus.
Cons – Reasons You Might Avoid 32Red
If you're looking for reasons to shy away from 32Red, this section includes a few items to consider. It should be noted, however, that I had to dig pretty deep to find any excuse not to recommend this online gaming establishment.
No Weekend Payouts – Once you've racked up some wins, you'll probably want to cash out your winnings. This can easily be accomplished at 32Red, although the service isn't available during the weekend. This can be a hassle for some, although most players should be capable of waiting an extra day or two.
Doesn't Accept U.S. Players – If you're located in the United States, you won't be able to take advantage of the great service and games offered by 32Red. The same restrictions apply to the following regions: South Africa, Hong Kong, Turkey, Denmark, Belgium, Greece, Spain, France, U.S. Virgin Islands, French Polynesia, French Guiana, and the French Southern Territories.
No Manual Flushing – After a player requests a withdrawal, the winnings are placed in a virtual holding area to wait for approval. Some players wind up getting impatient and reverse the withdrawal request in order to retain their funds.
If you want to avoid the temptation of such a reversal, you can request manual flushing. This moves the requested withdrawal out of the holding area and beyond the reach of the customer. Unfortunately, 32Red does not offer this feature, so you'll have to rely on old-fashioned discipline.
Games at 32Red Casino
The site is a full-purpose casino, allowing players to wager on all manner of games and events. If you're unfamiliar with 32Red, here are some options to be aware of:
Casino Games
Live Casino
Poker
Bingo
Sports Betting
Casino Games
Not only does 32Red have an impressive number of casino games, but most come with an array of variants to add an extra twist to your online experience. A perfect example would be roulette, where a total of six versions of the game are offered. These include:
American Roulette – This version has two zero pockets for a higher house edge.
European Roulette – There's only one zero pocket, which means the house edge is lower.
French Roulette – The original version of the game, with an entirely red betting surface and all wagers written in French.
French Roulette Gold – A graphically enhanced version of the previous entry.
Premier Roulette – Offers a number of customizable features, such as the ability to change the look of the table or the wheel. You can even zoom in and watch the three-dimensional wheel as it spins.
Roulette Royale – While the normal rules of the game still apply, there's also a progressive jackpot that builds with each spin.
These are just a few examples of what the casino games section of 32Red has to offer. Whether you're searching for state-of-the-art slots or high roller favorites like baccarat, their selection of 500+ games ensures that almost every option should be available.
The Live Casino
The live casino option allows players to compete against real dealers utilizing streaming technology. As of this writing the following games are available in this format:
Roulette
Blackjack
Baccarat
Multi-Player Roulette
Multi-Player Baccarat
The multi-player options allow you to share the table with other customers from around the globe. Male players should also be delighted with the Playboy Live Casino, which means that many of the female dealers are dressed in the distinctive bunny costumes associated with the brand. Just keep in mind that the ladies can't actually see you, so there's no point in winking at the screen (or doing something that would get you kicked out of a lad-based establishment).
Poker
The poker room at 32Red offers a $1,000 welcome bonus, free games without making a single deposit, and a 30% rakeback program. There is also a wealth of tournaments to choose from, including (but not limited) to the following:
Sit & Go – Compete at a single table until only one player remains. Available games include Texas Hold'em, Five Card Draw, Omaha Hi Lo, and Omaha.
Heads Up – Play against a single opponent.
Step Satellites – Players advance through steps of a tournament until they reach the top and become eligible for big prizes.
Double Up – Half the playing field receives double their buy-in amount.
Freeroll – Prizes are still offered, but these tournaments cost nothing to play.
Guaranteed – A set prize pool is assured, and there are numerous themes, structures, and formats to choose from.
Bingo
If you're a fan of bingo, this section of 32Red allows you to indulge in some gaming action at a relaxed pace. Both 75-ball and 90-ball versions are offered, and there are a number of different rooms to play in. These include:
Sunshine Lounge – Games are free and run from 3pm until midnight.
Speed Bingo Lounge – A new game is held every two minutes, and tickets are just 5p.
Harmony Lounge – Games are run every five minutes and last from noon until midnight.
Sapphire Room – 75-ball bingo is the name of the game in this room that's open from 5pm until 5am every day.
Friendship Lounge – The biggest bingo room on the site, this one is open 24 hours and offers five free play games throughout the day.
The chat feature is a big part of all these rooms, allowing players to converse with each other while they attempt to fill up their virtual card. This makes it perfect for those on a budget who enjoy gaming and making new friends (or gossiping with old ones).
Sports Betting
32Red covers all major sporting events, but it's their attention to less-known or offbeat events that's especially impressive. Competitive matches for the League of Legends PC game are covered, and so are various chess tournaments around the world. Heck, the next time your grandfather challenges you to a game of checkers, there's at least a slim chance that 32Red is laying odds on it.
Any potential wager can be found with just a few clicks, and customers can see the odds displayed in decimal or fractional form. Most of these odds are in line with competing sportsbooks, but you're likely to find better deals when it comes to horseracing and the over/under on soccer matches.
One of the biggest selling points for serious bettors is the fact that 32Red doesn't feel intimated by sharp customers. While other books may find ways to stop accepting bets from consistent winners, this site is more than willing to accept the challenge.
Conclusion
As long as you don't live in a restricted nation, 32Red is among the best online casinos you'll ever find. From customer service to their selection of games, they excel in every area of Internet gambling. I suggest opening an account there as soon as possible and urging your friends to do the same.